PROFESSOR MEDHA MAKHLOUF PRESENTS ON IMMIGRANT ACCESS TO HEALTH CARE AT PENN LAW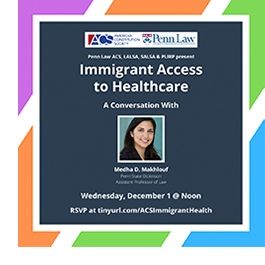 December 2021 — Professor Medha Makhlouf gave a talk on the law and policy of immigrant access to health care, at the invitation of a coalition of student organizations at the University of Pennsylvania Carey School of Law. The presentation focused on the impact of immigration status on health, as well as the laws, policies, and systemic structures that shape immigrant access to health care.
In addition to the topics mentioned above, Professor Makhlouf spoke about how fear of immigration surveillance at health care sites can deter noncitizens from seeking care when they need it—the subject of her article, "Health Care Sanctuaries." She also discussed what we know so far about the health impacts of the COVID-19 pandemic on the immigrant community. She concluded the presentation by linking these topics to the work of the Penn State Dickinson Law Medical-Legal Partnership Clinic, which she founded and directs.
Students from the Penn Law chapter of the American Constitution Society (ACS) initially reached out to Professor Makhlouf after reading her article, "Laboratories of Exclusion: Medicaid, Federalism & Immigrants," and listening to her guest lecture in the Law & Inequality course for first-year law students. The event was organized by Penn Law students involved with ACS, the Latinx Law Students Association (LALSA), South Asian Law Students Association (SALSA), and Penn Law Immigrant Rights Project (PLIRP). During the presentation, Professor Makhlouf answered students' questions about how to get involved with advocacy relating to immigrant access to health care and the non-legal barriers affecting immigrants.
---
Professor Medha D. Makhlouf is an Assistant Professor and Founding Director of the Medical-Legal Partnership Clinic at Penn State Dickinson Law. She has a joint appointment in the Department of Public Health Sciences at Penn State College of Medicine. Professor Makhlouf's research and teaching interests lie at the intersection of health law, immigrants' rights, and poverty law and policy. Her recent scholarship has been published in the New York University Law Review, the California Law Review Online, the Northwestern University Law Review Online, and the American Journal of Law and Medicine.