PROFESSOR MAKHLOUF ELECTED TO THE BOARD OF DIRECTORS OF THE AMERICAN SOCIETY OF LAW, MEDICINE & ETHICS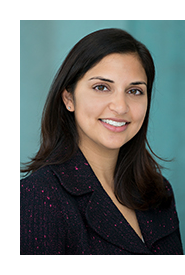 February 2022 — At a recent meeting of the American Society of Law, Medicine & Ethics (ASLME) Board of Directors, Professor Medha D. Makhlouf was elected to join the organization's Board of Directors.
ASLME is the premier association for health law professors at schools of law, medicine, public health, nursing, business, and social work. It is a nonprofit, educational organization for scholars, teachers, and professionals that organizes conferences and publishes research on topics at the intersection of law, policy, medicine, public health, nursing, and ethics. The Journal of Law, Medicine and Ethics and the American Journal of Law and Medicine are published by ASLME. Professor Makhlouf begins her three-year term this month.
In this new leadership role, one of Professor Makhlouf's priorities will be to advance ASLME's mission to create events focused on reducing racial, ethnic, and economic health disparities.
---
Professor Medha D. Makhlouf is an Assistant Professor and Founding Director of the Medical-Legal Partnership Clinic at Penn State Dickinson Law. She has a joint appointment in the Department of Public Health Sciences at Penn State College of Medicine. Professor Makhlouf's research and teaching interests lie at the intersection of health law, immigrants' rights, and poverty law and policy. Her recent scholarship has been published in the New York University Law Review, the California Law Review Online, and the Yale Journal of Health Policy, Law & Ethics. Professor Makhlouf's work is available at https://works.bepress.com/medha-makhlouf/.