PROFESSOR MAKHLOUF DISCUSSES NEW ARTICLE ON THE JAHARIS PODCAST ON HEALTH & INTELLECTUAL PROPERTY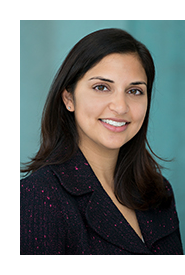 April 2022 — Professor Medha D. Makhlouf was interviewed on the Jaharis Podcast on Health & IP about her motivation for studying issues at the intersection of health and immigration law, her forthcoming article in the Boston University Law Review, and the advice she gives students who want to pursue a career in health law.
During the interview with Dr. Theodosia Stravroulaki, Jaharis Faculty Fellow at DePaul College of Law, Professor Makhlouf provided an overview of issues at the intersection of health and immigration law before turning to the discussion of her forthcoming article, "Interagency Dynamics in Matters of Health and Immigration." The article explores the relationship and shared responsibilities between two different agencies: the Department of Health and Human Services (HHS) and the Department of Homeland Security (DHS). Professor Makhlouf explained how coordination in policymaking between agencies with different types of expertise can be very helpful for solving complex problems, but that conflicts arising from agencies' differing missions can be difficult to overcome. The article analyzes three case studies to demonstrate how HHS's ability to leverage its expertise on topics under the agencies' joint purview is compromised by a culture of capitulation to DHS—or to an administration's immigration policy preferences, generally. She proposes interventions to create a better balance between immigration and health policies.
In the final minutes of the podcast, Professor Makhlouf shared how her scholarly interests relate to her personal experiences, described how she overcame challenges during her academic journey to become a productive scholar, and provided a treasure trove of advice for students who are interested in pursuing a career in health law.
The podcast, titled "Mind the Gap: Immigration Policies Can Harm Health Outcomes in the USA," is available on the website of the Jaharis Podcast on Health & IP.
---
Professor Medha D. Makhlouf is an Associate Professor and Founding Director of the Medical-Legal Partnership Clinic at Penn State Dickinson Law. She has a joint appointment in the Department of Public Health Sciences at Penn State College of Medicine. Professor Makhlouf's research and teaching interests lie at the intersection of health law, immigrants' rights, and poverty law and policy. Her recent scholarship has been published in the New York University Law Review, the California Law Review Online, and the Yale Journal of Health Policy, Law & Ethics. Professor Makhlouf's work is available online.