PROFESSOR MAKHLOUF AND JASMINE SANDHU '20 COAUTHOR ESSAY ON IMMIGRANT ACCESS TO HEALTH CARE DURING THE COVID-19 PANDEMIC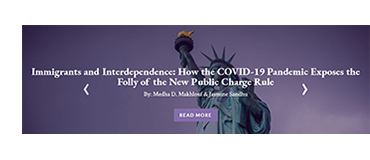 October 2020 — The Northwestern University Law Review Online recently published an essay by Professor Medha Makhlouf and Jasmine Sandhu '20, titled Immigrants and Interdependence: How the COVID-19 Pandemic Exposes the Folly of the New Public Charge Rule. The Essay builds on Professor Makhlouf's prior work analyzing the public health consequences of the public charge rule, an immigration policy that ties certain immigration applications to public benefits use, including publicly funded health care. Recent revisions to the public charge rule have expanded its scope and increased the number of immigrants who fear immigration-related consequences of accessing public benefits. Professor Makhlouf and Sandhu argue that the COVID-19 pandemic "has exposed the folly of the new public charge rule: Discouraging noncitizens from accessing public benefits to support their health and well-being is, and always has been, unwise from a public health perspective." The pandemic merely magnifies its negative consequences.
---
Professor Medha D. Makhlouf is an Assistant Professor and Founding Director of the Medical-Legal Partnership Clinic at Penn State Dickinson Law. She has a joint appointment in the Department of Public Health Sciences at Penn State College of Medicine. Professor Makhlouf's research and teaching interests lie at the intersection of health law, immigrants' rights, and poverty law and policy. Her recent scholarship has been published or is forthcoming in the New York University Law Review, the Northwestern University Law Review Online, and the American Journal of Law and Medicine.