PROFESSOR EVANS DELIVERS EXPERT TESTIMONY BEFORE THE PA HOUSE DEMOCRATIC POLICY COMMITTEE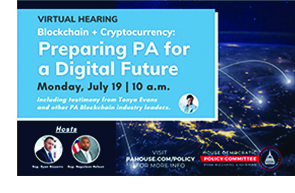 July 2021 — Professor Tonya M. Evans testified in a virtual hearing on July 19 in the House Democratic Caucus Room, 4th Floor Main Capitol Building, Harrisburg, PA. The power and promise of cryptocurrencies, blockchain technology, and economic empowerment were explored in an effort to help legislators prepare Pennsylvanians for a digital future. The hearing, Blockchain + Cryptocurrency: Preparing PA for a Digital Future, was organized by State Rep. Napoleon Nelson. Testifiers included some of Pennsylvania's top blockchain industry leaders. Watch the virtual hearing here. Download her submitted written testimony here.
---
Professor Tonya Evans has expertise in the areas of intellectual property, new technologies (including blockchain and distributed ledger technology), entrepreneurship and innovation, entertainment law, trusts and estates, and municipal finance. She writes, speaks, and teaches primarily about the intersections of copyright and new technologies, blockchain and the law, and trusts and estates. Professor Evans serves on the Intellectual Property Committee of the Advisory Council to the Court of Federal Claims and is chairperson of the Maker DAO's Maker Ecosystem Growth Foundation. She received the inaugural Enterprise Blockchain Award in the category of Governance and Policy Leadership during the 2019 Blockchain Revolution Global Conference in Toronto. She hosts the weekly Tech Intersect Podcast and owns Advantage Evans, an online education platform devoted primarily to empowering and preparing women and people of color for the future of money, entrepreneurship, and work.