PROFESSOR DONELSON SCHEDULED TO SPEAK ON OVERCRIMINALIZATION AT THE INSTITUTE FOR HUMANE STUDIES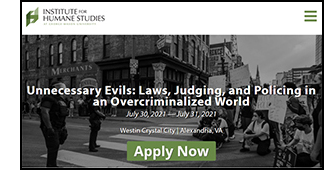 March 2021 — Professor Raff Donelson has been invited to serve as a panelist at a July 2021 academic research seminar presented by the Institute for Humane Studies at George Mason University. The seminar is entitled Unnecessary Evils: Laws, Judging, and Policing in an Overcriminalized World. Donelson will present on policing incentives which affect the number of criminal laws and the judicial incentives created by the mass of criminal laws.
Professor Donelson will be accompanied on the panel by Professors Jake Monaghan (University of New Orleans) and Ekow Yankah (Yeshiva University). The seminar is designed for legal scholars who are interested in research related to criminal justice reform. Applications for attendance can be found here.
---
Professor Raff Donelson is an Assistant Professor of Law at Penn State Dickinson Law who earned his J.D. and Ph.D. in Philosophy from Northwestern University. Professor Donelson's research and teaching interests lie at the intersection of philosophy, constitutional law, and criminal law. His more theoretical research interests include metaethics and general jurisprudence, while his doctrinal work focuses on constitutional protections for criminals and the accused. His scholarship includes contributions to books published by Oxford University Press and Cambridge University Press, as well as articles in U.S. and foreign law reviews and in philosophy journals such as Metaphilosophy. He has been an invited speaker at numerous legal and philosophy conferences and has addressed both U.S. and foreign academic audiences. His work is featured in Legal-Phi, which is an online venue that profiles the work of rising stars in the field of legal philosophy.