PROFESSOR DONELSON RECENTLY SPOKE AT DICKINSON COLLEGE ABOUT RACE AND POLICING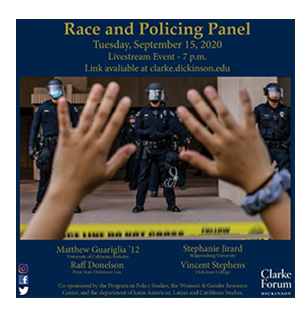 September 2020 — Professor Raff Donelson participated in a session of the Clarke Forum for Contemporary Issues, an ongoing panel discussion series, hosted by Dickinson College. This month's conversation focused on race and policing. The panel discussion, livestreamed on YouTube, is available at this link.
The online discussion of race and policing ranged widely. Topics of conversation included the racial origins of policing in the United States, qualified immunity for police officers, and the recent murderers of George Floyd and Breonna Taylor. Professor Donelson was joined by Professors Matt Guariglia (UC Berkeley) and Stephanie Jirard (Shippensburg University). Professor Vincent Stephens (Dickinson College) moderated the discussion. 
______________________________
Professor Raff Donelson is an Assistant Professor of Law at Penn State Dickinson Law who earned his J.D. and Ph.D. in Philosophy from Northwestern University. Professor Donelson's research and teaching interests lie at the intersection of philosophy, constitutional law, and criminal law. His more theoretical research interests include metaethics and general jurisprudence, while his doctrinal work focuses on constitutional protections for criminals and the accused. His scholarship includes contributions to books published by Oxford University Press and Cambridge University Press, as well as articles in U.S. and foreign law reviews and in philosophy journals such as Metaphilosophy. He has been an invited speaker at numerous legal and philosophy conferences and has addressed both U.S. and foreign academic audiences. His work is featured in Legal-Phi, which is an online venue that profiles the work of rising stars in the field of legal philosophy.