PROFESSOR DONELSON ADDRESSED NATURAL PUNISHMENT AT THE ACS CONSTITUTIONAL LAW SCHOLARS FORUM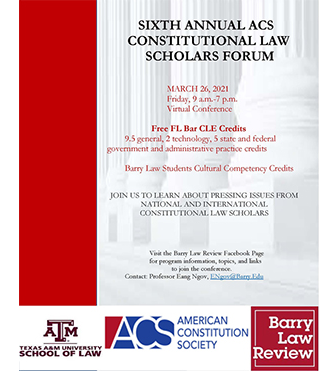 March 2021 — Professor Raff Donelson recently spoke at the annual American Constitution Society Constitutional Law Scholars Forum at Barry Law School. Professor Donelson presented his article, "Natural Punishment," which recently was accepted for publication in the North Carolina Law Review.
The 6th Annual ACS Constitutional Law Scholars Forum was held at Barry Law School on March 26, 2021. Because of the COVID-19 pandemic, the conference was held virtually. Professor Donelson's article defines and describes instances in which wrongdoers are punished by the results of their wrongdoing, rather than by any punishment system. Donelson's article examines how some foreign jurisdictions take such punishment into account and advocates for American courts to recognize this type of punishment when deciding upon punishment post-conviction.
---
Professor Raff Donelson is an Assistant Professor of Law at Penn State Dickinson Law who earned his J.D. and Ph.D. in Philosophy from Northwestern University. Professor Donelson's research and teaching interests lie at the intersection of philosophy, constitutional law, and criminal law. His more theoretical research interests include metaethics and general jurisprudence, while his doctrinal work focuses on constitutional protections for criminals and the accused. His scholarship includes contributions to books published by Oxford University Press and Cambridge University Press, as well as articles in U.S. and foreign law reviews and in philosophy journals such as Metaphilosophy. He has been an invited speaker at numerous legal and philosophy conferences and has addressed both U.S. and foreign academic audiences. His work is featured in Legal-Phi, which is an online venue that profiles the work of rising stars in the field of legal philosophy.