PROFESSOR DARYL LIM PUBLISHES ARTICLE IN INDIANA UNIVERSITY MAURER SCHOOL OF LAW'S IP THEORY JOURNAL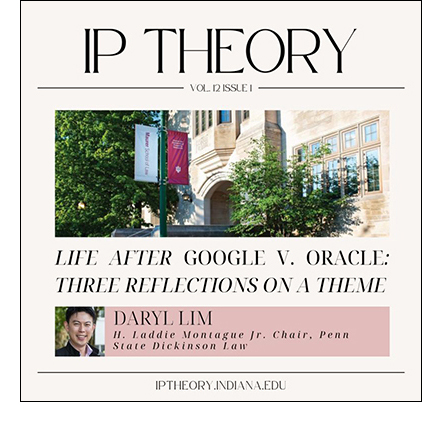 October 2022 — Professor Daryl Lim published an article in Indiana University Maurer School of Law's IP Theory journal. The article is titled, "Life after Google v. Oracle: Three Reflections on a Theme." The first reflection flows directly from the Supreme Court's Google v. Oracle decision. It discusses fair use in Andy Warhol Found. for Visual Arts, Inc. v. Goldsmith, currently before the Court, as well as text and data mining for artificial intelligence uses. This article then reflects on Arnstein v. Porter's lessons for modern copyright infringement law. Finally, it reflects on the current state of software protection at the intersection of patent and copyright law in light of Alice Corp. Pty. v. CLS Bank Int'l. Professor Lim's article is available online at https://www.repository.law.indiana.edu/ipt/vol12/iss1/3/.
---
Daryl Lim is the H. Laddie Montague Jr. Chair in Law at Penn State Dickinson Law and Co-Hire at the Institute of Computational and Data Sciences at Penn State University. He also serves as Associate Dean for Research and Innovation and founding director of the IP Law and Innovation Initiative.
Professor Lim is an award-winning author, observer, and commentator of national and global trends in IP and competition policy and how they influence and are influenced by law, technology, economics, and politics. He helps policymakers, attorneys, corporate counsel, scholars, and the public to make sense of the world around them. He is a founding member of the Global IP Alliance and its local chapters in Pennsylvania and Illinois. In addition, he serves as Co-Chair of the University Education Committee in the US IP Alliance. He consults internationally on various IP and antitrust issues.