PROFESSOR DARYL LIM PARTICIPATES IN GLOBAL FORUM ON INTELLECTUAL PROPERTY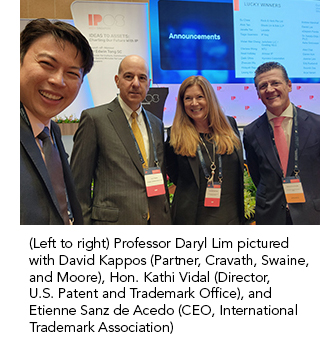 September 2022 — Professor Daryl Lim participated in the Global Forum on Intellectual Property (IP) on September 6-7, 2022, in Singapore. The annual flagship event brings together policymakers, heads of IP offices, IP experts and businesses to discuss the role of IP amid global challenges and the rise of game-changing technologies. Professor Lim moderated a panel on non-registrable IP and intangible assets such as trade secrets, copyright, and data, which discussed their critical role in business growth. While in Singapore, Professor Lim visited the IP Office of Singapore, where he met senior officials and laid the groundwork for future collaboration, including a joint event to be announced in 2023.
---
Daryl Lim is the H. Laddie Montague Jr. Chair in Law at Penn State Dickinson Law and Co-Hire at the Institute of Computational and Data Sciences at Penn State University. He also serves as Associate Dean for Research and Innovation and founding director of the Intellectual Property (IP) Law and Innovative Initiative. Professor Lim is an award-winning author, observer, and commentator of national and global trends in IP and competition policy and how they influence and are influenced by law, technology, economics, and politics. He helps policymakers, attorneys, corporate counsel, scholars, and the public make sense of the world around them. He is a founding member of the Global IP Alliance and its local chapters in Pennsylvania and Illinois. In addition, he serves as Co-Chair of the University Education Committee in the US IP Alliance. He consults internationally on various IP and antitrust issues.