PROFESSOR DARYL LIM JOINS GROUP FOR VIRTUAL ROUNDTABLE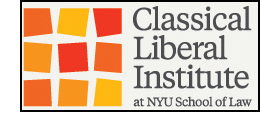 December 2022 — Professor Daryl Lim joined an interdisciplinary and international group of scholars, practitioners, and corporate counsel for The Classical Liberal Institute at NYU Law School's "The Battle Over Patents Roundtable." The virtual roundtable is based on a book with the same title written by Stephen Haber (The Hoover Institution at Stanford University) and Naomi Lamoreaux (Yale University), published by Oxford University Press. The book explains how patents help coordinate interests at different points in production chains contending over the economic surplus and explains why U.S.-style patent systems dominate other methods of encouraging innovation.
---
Daryl Lim is the H. Laddie Montague Jr. Chair in Law at Penn State Dickinson Law and Co-Hire at the Institute of Computational and Data Sciences at Penn State University. He also serves as Associate Dean for Research and Innovation and founding director of the IP Law and Innovation Initiative.
Professor Lim is an award-winning author, observer, and commentator on national and global trends in IP and competition policy and how they influence and are influenced by law, technology, economics, and politics. He helps policymakers, attorneys, corporate counsel, scholars, and the public to make sense of the world around them. He is a founding member of the Global IP Alliance and its local chapters in Pennsylvania and Illinois. In addition, he serves as Co-Chair of the University Education Committee in the US IP Alliance. In December 2022, the American Law Institute elected Professor Lim to its membership based on demonstrated excellence and outstanding professional achievement. He consults internationally on various IP and antitrust issues.