PROFESSOR BADISSY'S RESEARCH INTO LOCAL SOLAR ORDINANCES HIGHLIGHTED BY NPR'S STATEIMPACT PENNSYLVANIA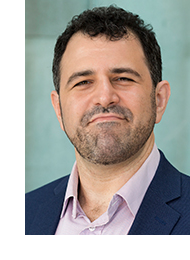 December 2021 — Confusion and controversy are dominating the conversation around Pennsylvania solar power projects, coming as no surprise to Assistant Professor of Law Mohamed Rali Badissy, whose survey of local ordinances for solar project in the commonwealth was recently highlighted by NPR's StateImpact Pennsylvania.
Over the past several months, Professor Badissy has led a team in analyzing local zoning ordinances from Pennsylvania's 2000+ municipalities to identify specific language on solar power projects. Professor Badissy's preliminary findings are that fewer than 10% of zoning ordinances provide specific guidance on solar projects, and those that do often provide incomplete guidance to community stakeholders and project developers. The consequence of this ambiguity is a growing impasse between neighboring landowners and developers, as discussed at length in the StateImpact Pennsylvania piece by journalist Rachel McDevitt that featured Professor Badissy. (StateImpact Pennsylvania produces written and audio journalism and is a collaboration among Pennsylvania's NPR affiliates WITF, WHYY, WPSU, and The Allegheny Front, an award-winning public radio program covering environmental issues in Western Pennsylvania.) 
"It never ceases to amaze me that there are so many parallels between my ongoing work in the development of energy projects in emerging markets, and my recent focus on energy projects here in Pennsylvania," said Professor Badissy. "Local officials here are facing the same concerns around land use, community opposition and sustainability as regulators that I have worked with in Sub-Saharan Africa and Southeast Asia."
---
Professor Badissy currently serves as an Assistant Professor at Penn State Dickinson Law, where his research focuses on driving investment into sustainable energy projects through contract standardization and regulatory predictability. He previously served as the Senior Attorney for Energy and Finance with the Commercial Law Development Program of the U.S. Department of Commerce, advising governments in emerging markets on commercial law reforms intended to increase energy access through private investment in energy infrastructure. Badissy has advised energy sector reform efforts in 60+ emerging markets in partnership with host governments, multilateral institutions, civil society organizations and industry leaders, and continues to serve as an advisor to both public institutions and private developers.