PROFESSOR BADISSY ELECTED TO CHAIR-ELECT OF THE AALS SECTION ON ISLAMIC LAW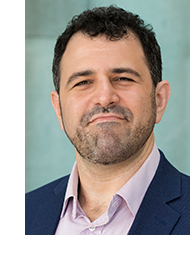 December 2020 — Assistant Professor Mohamed Rali Badissy has been elected to serve as Chair-Elect of the AALS Section on Islamic Law. As one of the AALS interest groups, the Islamic Law Section offers relevant programming and recommendations to the association at large at the AALS Annual Meeting each January and throughout the year. "This is an outstanding section that is committed to substantive, current scholarship in an important field of law and understanding," said Dickinson Law Dean and Donald J. Farage Professor of Law Danielle Conway, a former AALS liaison to the Section on Islamic Law. "Their programming is dynamic and insightful."
"What I most appreciate about this Section is the diversity of issues that can be viewed through the lens offered by Islamic jurisprudence," said Professor Badissy. "The range of expertise featured by members of this Section and its leadership exemplifies this." In that vein, Professor Badissy looks forward to working alongside newly elected Islamic Law Section leaders: Chair Rabeah Benhalim, Associate Professor at the University of Colorado Law School (whose research focuses on the intersection of secular and religious commercial laws), and Secretary Tabrez Y. Ebrahim, Associate Professor at the California Western School of Law (whose research addresses the impact of technology on business and law).
Professor Badissy's research focuses on accelerating development of sustainable energy projects through contract standardization and structured private finance. His focus within Islamic Law explores the traditional focus on compliance within Islamic Finance and its connection to the religious obligations towards environmental conservation and sustainability. His writing on this matter will be featured in a forthcoming book about Islamic environmental law.
---
Professor Badissycurrently serves as an Assistant Professor at Penn State Dickinson Law, where his research focuses on driving investment into sustainable energy projects through contract standardization and regulatory predictability. He previously served as the Senior Attorney for Energy and Finance with the Commercial Law Development Program of the U.S. Department of Commerce, advising governments in emerging markets on commercial law reforms intended to increase energy access through private investment in energy infrastructure. Badissy has advised energy sector reform efforts in 60+ emerging markets in partnership with host governments, multilateral institutions, civil society organizations and industry leaders, and continues to serve as an advisor to both public institutions and private developers. His work with governments in Sub-Saharan Africa, the Middle East, and Southeast Asia has often leveraged principles of Islamic Finance to attract new sources of investment in energy infrastructure.