ANNUAL PUBLIC INTEREST LAW FUND AUCTION TO BENEFIT FELLOWSHIPS FOR DICKINSON LAW STUDENTS
February 7, 2020 — Dickinson Law's Public Interest Law Fund (PILF) will host its annual auction on Thursday, March 5, from 7 to 10 p.m. at Comfort Suites Downtown Carlisle, 10 S. Hanover St., Carlisle. The annual auction—PILF's primary fundraising event—raises funds to support the Degenstein Foundation Fellowship Program for Public Interest Law and the Cherie M. Millage Summer Fellowship Program to help fund public interest fellowships for Dickinson Law students.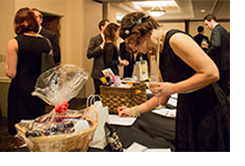 PILF fellowships are awarded to students who have a commitment to public interest, have demonstrated the highest standards of service, and have conducted themselves with integrity both inside and beyond the classroom. PILF fellowships were awarded to the following Dickinson Law students who worked in the public interest field in various organizations during summer 2019:  
Jeni Bergman '20 — PA Innocence Project (Philadelphia, PA)
Lucia Cuenca '20 — Her Justice (New York, NY)
Bianca Nalaschi '20 — Federal Public Defenders (Harrisburg, PA)
Alisa Petersen '20 — MidPenn Legal Services (Carlisle, PA)
A nonprofit, student-run organization, PILF encourages students to work for nonprofit legal organizations or government agencies. PILF hopes to increase available aid to enable more students to support the needs of local, national and global communities. 
Alumni and friends are invited to attend. The event will feature live and silent auctions; food, cocktails and live entertainment; and the opportunity to mingle with Dickinson Law faculty, staff and students and learn more about PILF's important work. Tickets are available for $12 per person and can be purchased online.
If you are interested in supporting the auction by donating goods or services, such as gift cards, novelty items, apparel, accommodations, experiential opportunities, weekends away or event tickets, or if you have questions about the event, please contact Auction Chairs Jenifer Bergman '20 at jub802@psu.edu or Caitlin Cooke '21 at czc684@psu.edu.
To make a monetary donation or to support PILF, contact Laura Weakland, annual giving and stewardship coordinator at Dickinson Law, at 717-240-5235 or law597@psu.edu. All gifts are tax-deductible.