PENN STATE DICKINSON LAW REUNIFICATION FREQUENTLY ASKED QUESTIONS
General information about the law school reunification can be found here.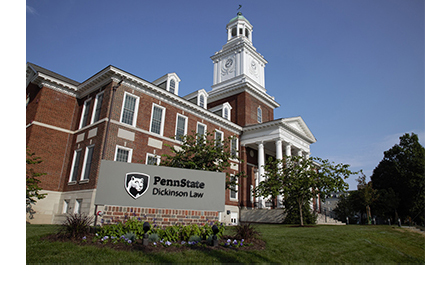 Why are the two schools unifying? What are the benefits of unifying both law schools?
Reuniting the two schools allows the university to advance legal education at Penn State and offer law students a more robust law school experience. With an extremely competitive marketplace for legal education and nine law schools in Pennsylvania, the university's current two-law-school model is not the best approach for achieving excellence in legal education. Ultimately, concentrating the best of both existing programs into a single school will allow the university to build a stronger law school. Additionally, over time, the university expects to see budget savings from combining the schools' programs.
---
Where will the law school be located?
The unified law school will be called Penn State Dickinson Law and will be led by Dickinson Law Dean Danielle M. Conway. The primary location will be in Carlisle with a presence at University Park. Each campus will have residential student cohorts, including J.D. students at all levels, LL.M. students, and S.J.D. students, with class sizes being optimized over time.
---
Does this mean that Dickinson Law is absorbing Penn State Law?
No. The law schools are reunifying into a single law school called Penn State Dickinson Law.
---
If I am applying for admission in Fall 2024 and want to apply to Dickinson Law and/or Penn State Law, do I need to apply to each school separately?
Yes. You must apply to either school at which you would like to enroll in Fall 2024. Both law schools continue to operate independently and will do so until reunification is complete. Applications are not shared between the law schools and each school has its own admissions process.
---
What is the timeline of the unification process? When will we have a clearer picture of what this means for both law schools?
The reuniting process is expected to take several years, and the leadership of the two law schools together with the university and the American Bar Association (ABA) are defining that process. University officials are working with the ABA to receive the requisite approvals to proceed with President Bendapudi's recommendation for reunification of Penn State's two law schools. More information on the reunification can be found in this Penn State News release.

Updated November 2023