PENN STATE DICKINSON LAW REUNIFICATION FREQUENTLY ASKED QUESTIONS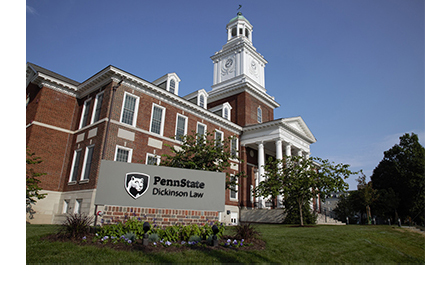 Why are the two schools unifying? What are the benefits of unifying both law schools?
Reuniting the two schools allows the university to advance legal education at Penn State and offer law students a more robust law school experience. With an extremely competitive marketplace for legal education and nine law schools in Pennsylvania, the university's current two-law-school model is not the best approach for achieving excellence in legal education. Ultimately, concentrating the best of both existing programs into a single school will allow the university to build a stronger law school. Additionally, over time, the university expects to see budget savings from combining the schools' programs.
---
Where will the law school be located?
A panel of students, staff, faculty, and alumni from both Dickinson Law and Penn State Law has been charged by Penn State President Neeli Bendapudi with determining the specifics of the reunification and ultimately what legal education at Penn State will look like in the future. President Bendapudi recommends that the united law school would be called Penn State Dickinson Law, have its primary location in Carlisle, and be led by Dickinson Law Dean Danielle M. Conway.
---
Does this mean that Dickinson Law is absorbing Penn State Law?
No. The law schools are reunifying into a single law school. The panel will help to determine the specifics of the reunification.
---
If I am applying for admission in Fall 2023 and want to apply to Dickinson Law and/or Penn State Law, do I need to apply to each school separately?
Yes. You must apply to either school at which you would like to enroll in Fall 2023. Both law schools continue to operate independently and will do so until reunification is complete. Applications are not shared between the law schools and each school has its own admissions process.
---
What is the timeline of the unification process? When will we have a clearer picture of what this means for both law schools?
A panel has been formed and has begun to examine how to foster excellence in legal education, scholarship, service, and community, and have been charged with investigating options within the framework of one law school.
A website summarizing the reunification panel's work is available at https://wp.psu.edu/reuniting/ so stakeholders can follow the panel's progress. We expect the reunification will be a three-year process to complete and Penn State will continue to share details as they become available.
The panel is expected to deliver its draft recommendations to President Bendapudi by April 30, at which time she will consult with Penn State leadership and other experts for review and comment. She will share that input with the panel, seeking its final recommendations by May 31. After considering the panel's recommendations, Bendapudi will select the structure of the reunited law school and present it to the Penn State Board of Trustees for approval.
Published February 2023