PENN STATE DICKINSON LAW NAMED A BEST LAW SCHOOL BY THE PRINCETON REVIEW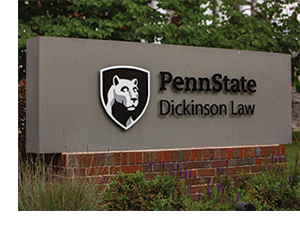 December 16, 2021 — Penn State Dickinson Law is one of the nation's most outstanding law schools, according to The Princeton Review®. The education services company included Dickinson Law in its list, Best Law Schools for 2022, reported on December 14, 2021 and posted at https://www.princetonreview.com/best-law-schools.
"We recommend Dickinson Law and every one of the 168 law schools on our 2022 list as an excellent choice for an aspiring attorney," said Rob Franek, The Princeton Review's editor-in-chief. He noted that the company selected the schools based on an analysis of institutional data it collected from surveys of administrators at law schools during the 2020-21 academic year. The institutional survey, which numbered more than 200 questions, covered topics from academic offerings and admission requirements to data about currently enrolled students as well as graduates' employment.
Franek added, "What makes our Best Law Schools designations unique is that we factor in data from students attending the schools about their campus and classroom experiences. For our 2022 list, we reviewed data from surveys of 15,000 students at the 168 schools." The Princeton Review's 80-question student survey asked law school students about their schools' academics, student body, and campus life; it also included questions for the respondents about themselves and their career plans. The student surveys for this edition were conducted during the 2020-21, 2019–20, and 2018–19 academic years.
The Princeton Review's website profiles of the law schools have sections reporting on each school's academics, student life, admissions information, and graduates' employment data. In the profile on Dickinson Law, The Princeton Review editors describe the school as one which delivers "a challenging curriculum to intentionally small classes of just under 100 students each year." The small class size "forms a very nice community in which to go to school." Students become 21st century lawyers through a combination of courses based in legal fundamentals and extralegal core competencies, all with experiential learning opportunities peppered throughout to create a "cohesive learning environment."
The profiles also have categories of ratings that The Princeton Review tallies based on institutional data and/or its student surveys. The ratings are scores on a scale of 60 to 99. Among the ratings in the Dickinson Law profile are scores of 95 for accessibility of professors and 93 for professors holding the interest of the students.
---
About The Princeton Review
The Princeton Review® is a leading tutoring, test prep, and college admission services company. Every year, it helps millions of college- and graduate school–bound students achieve their education and career goals through online and in-person courses delivered by a network of more than 4,000 teachers and tutors, online resources, and its more than 150 print and digital books published by Penguin Random House. Founded in 1981, The Princeton Review celebrated its 40th anniversary in November 2021. The company's Tutor.com brand, now in its 21st year, is one of the largest online tutoring services in the U.S. It comprises a community of thousands of tutors who have delivered more than 21 million one-to-one tutoring sessions. The Princeton Review is headquartered in New York, NY. The Princeton Review is not affiliated with Princeton University. For more information, visit PrincetonReview.com and the company's Media Center. Follow the company on Twitter (@ThePrincetonRev) and Instagram (@theprincetonreview).
---
Media Contacts:
Penn State Dickinson Law: Devan Drabik-Frey, Director of Marketing and Communications, dfd5456@psu.edu
The Princeton Review: Jeanne Krier, Publicist for The Princeton Review, pressoffice@review.com