MAXWELL ALLANSON-DUNDON AND GIANNA CORPORA WIN TRISTON "CHASE" O'SAVIO MOOT COURT COMPETITION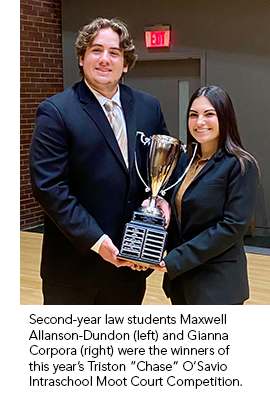 October 2023 – Second-year law students Maxwell Allanson-Dundon and Gianna Corpora were the winners of this year's Triston "Chase" O'Savio Intraschool Moot Court Competition, held Friday, October 27, 2023 in the Apfelbaum Family Courtroom and Auditorium at Penn State Dickinson Law.
The competition was hosted by the Penn State Dickinson Law Moot Court team and was organized by advisory board member Ella Goldman. The competition took place from October 23 to 27 and had 19 participating teams comprised of 38 second-year students. The issue for the competition focused on the matters of general personal jurisdiction and product liability after society introduced fully autonomous vehicles to the road.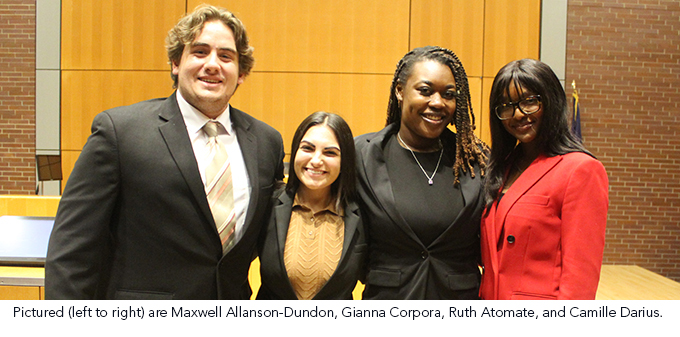 The competitors chosen for the final round of competition were Maxwell Allanson-Dundon and Gianna Corpora, representing the petitioner, and Ruth Atomate and Camille Darius, representing the respondent. Allanson-Dundon and Corpora defeated fellow second-year law students Darius and Atomate in the championship round. Darius was recognized as the Best Oralist during the round. Presiding over the final round of the competition was The Honorable Albert H. Masland of the Cumberland County Court of Common Pleas, Petra Gross '10, and David A. Fitzsimons '84.
"It is an honor to be recognized as the top team in this year's competition," said Corpora. "Such recognition is a great achievement and is validation that I made the right choice coming to school at Penn State Dickinson Law. Our classmates put in countless hours preparing to argue in front of esteemed faculty, practitioners, and judges. All of the teams deserve recognition for their hard work and dedication to the competition over the past month."
Allanson-Dundon noted, "We are very excited to have won such an important competition at Dickinson Law. We put a lot of hard work into the preparation, as did the rest of the competitors, and we are proud to have come out on top. It was an interesting fact pattern dealing with the market of autonomous vehicles, which made it even more fun to compete in. The turnout for the final round was great and it was a fantastic experience overall."
Judges for the earlier rounds of the competition included:
Yangmo ("Harvey") Ahn, Class of 2022
Hon. Jessica E. Brewbaker, Class of 2000
Blaze Campbell, Class of 2023
Berk Demiral, Class of 2020
Caitlin Demiral, Class of 2021
Jeffery A. Dodge, Assistant Professor of Law, Joseph H. Goldstein Faculty Scholar, and Associate Dean for Academic Affairs
Gary S. Gildin, Emeritus Dean; Professor of Law, Hon. G. Thomas and Anne G. Miller Chair in Advocacy; Director, Center for Public Interest Law and Advocacy
Peter G. Glenn, Emeritus Dean at Penn State Dickinson Law
Mark Goldman, Esq.
Nicholas Gonano, Class of 2023
Danny Gray, Class of 2021
Taylor Haberle, Class of 2023
Michael Halkias, Class of 2005
Brian Mains, Class of 2010
Claire (Shook) Markey, Class of 2020
Professor Andrea Martin
David A. Peiffer, Esq.
Brian Penny, Class of 2000
Aria Plants, Class of 2023
Giselle Santibañez-Bania, Assistant Dean for Academic and Student Services
Paul Scarlato, Esq.
Maya Schacker, Class of 2022
Hon. Matthew Smith, Class of 2002
David Tshudy, Class of 2000
James Zamkotowicz, Esq.
Michaela Zanis, Class of 2022