MARCUS SPISSO '19
STAFF ATTORNEY
KIDSVOICE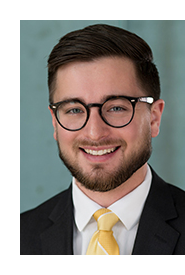 "Dickinson Law helped give me a sense of confidence going into my job after law school."
As a staff attorney for KidsVoice, a Pittsburgh, PA, organization representing those in the child-welfare system in Allegheny County's Juvenile Court, Marcus Spisso encounters many challenging situations related to abuse, drugs, and mental health disorders. That made one recent case notable because Spisso's client received a happy resolution.
Five-year-old Noah has arthrogryposis, which means his limbs stay in a permanently bent position. He spent 1,275 days in foster care before being adopted in late 2020. Spisso had a bit of fun with his young client's adoption hearing. Noah had informed Spisso that he wished to be adopted alongside his best friend—his dog. Spisso put his arts and craft skills to the test and drew up an adoption certificate for Noah's dog, which the judge in the case signed during the adoption hearing. The family was thrilled. "I was glad we could make the day even happier. That was really special," said Spisso.
He felt drawn to working with children before starting law school, working as a camp counselor for the YMCA as an undergraduate. He selected Dickinson Law to work in the Children's Advocacy Clinic, where law students collaborate with graduate social work students to represent children in the legal system. The CAC is modeled after KidsVoice.
"Marcus came to Dickinson Law intent on doing this type of work. He was so driven and focused," said Professor of Clinical Law Lucy Johnston-Walsh, director of the Children's Advocacy Clinic and Center on Children and the Law. "He reached out to judges and hearing officers, which is very unusual. He took advantage of every opportunity he had as a student."
Dickinson Law helped Spisso establish a connection at KidsVoice, too. "I got my foot in the door thanks to a Dickinson Law alumna," said Spisso. He interned at the organization before his third year of law school and later volunteered there while studying for the bar. "Representing this population of clients while at the Children's Advocacy Clinic gave me a sense of confidence going into my position at KidsVoice," said Spisso. "I love being able to give a voice to a client who would not otherwise have one."