LUCIA CUENCA '20
IMMIGRATION STAFF ATTORNEY
COMMUNITY JUSTICE PROJECT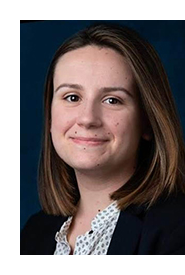 "I am here to empower and help my clients, even if I just let them know that things could be different in the future."
Lucia Cuenca felt drawn to immigration law from a young age because she saw what a huge impact it could have on someone's life. Her parents both immigrated from Spain, and many of her friends' parents were also immigrants.
As Cuenca became better versed in critical race and intersectionality theory, that passion grew. She wanted to help people living in poverty and escaping abuse and persecution. "I was taught a lot about what is going on around the world that made people need to leave their homes. I saw how they were treated when they came here and how the laws and rules are harsher against immigrants of color," said Cuenca.
She served an internship with the Community Justice Project (CJP) in Harrisburg, Pennsylvania, during her first year at Dickinson Law and kept in touch with one of the attorneys. Upon graduation, she accepted a CJP fellowship funded by the CARES Act and recently became an immigration staff attorney.
Cuenca learned the value of helping clients advocate for themselves while participating in Dickinson Law's Medical-Legal Partnership Clinic. She has embraced that approach with her clients now. "Sometimes when clients come to us, their confidence is low. We work with them instead of pitying them. We help them get their self-confidence back," said Cuenca. "It is really cool when they start advocating for themselves and seeing things differently."
"Lucia has consulted with the MLP Clinic on several matters following graduation and even gave a guest lecture," said Dickinson Law Assistant Professor of Law Medha Makhlouf, founding director of the MLP. "She certainly hit the ground running at CJP and is already giving back to the Law School in important ways."