Dayeon "Diane" Hong '24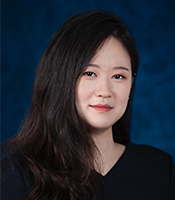 Hometown: Seoul, South Korea
Email: djh6459@psu.edu
Legal Areas of Interest:
Corporate, Business, and Tax Law
Undergraduate Study:
Sookmyung Women's University
Campus and Community Involvement:
Asian Pacific American Law Students Association, Business Law Society, and International Law Society
Life Before Dickinson Law:
I am a KJD student so I was just a student in Seoul, South Korea.
A Dickinson Law Favorite:
People. I love welcoming professors, staffs, and my friends at PSDL.
Why Dickinson Law?:
The biggest reason for me was because Dickinson Law has a diverse, inclusive, and warm atmosphere. I cannot deny the generous scholarship was factored in!
Externship:
I spent my summer with Honorable Royce Morris in Dauphin County. It was a wonderful time to watch and experience real legal procedures that I only learned from the books. Judge Morris and his Clerk Peiffer taught me, shared their insights, and widened my perspective. 
Favorite Course:
It is tough to select because I love professors and classes at my 1L days… But, Contracts and Property might be my favorite courses.
Advice for Prospective Law Students:
Reach out to people if you encounter any kind of obstacles. People here at Dickinson Law are more than willing to help you!
Something You Love About Carlisle:
Peaceful environment and clean air
On Choosing A Law School:
Check out some publicized reports and interview students or alumni.
You'd Never Guess That… :
I have learned German for about seven years, even though I might have trouble speaking with a Kindergarten baby.
Favorite Book:
Guns, Germs, and Steel by Jared Diamond