The importance of well-being in the legal profession
by Alison F. Lintal, Director of Career Services and Internship Programs
September 17, 2019 — I was invited to present on wellness as part of the annual judicial retreat for the U.S. District Court for the Western District of Pennsylvania. A certified Iyengar yoga instructor, I led a morning yoga session for the judges before presenting on judicial stress and well-being.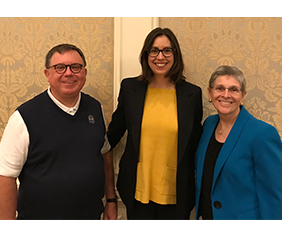 There is a current and well-documented well-being crisis in the legal profession. One of the recommendations of the 2017 Report from the National Task Force on Lawyer Well-Being is that judges provide well-being programming for the judiciary. Drawing upon my legal background and experience as a yoga teacher, I facilitated a discussion on how stressors impact the judiciary and gave some tools, including yoga and mindfulness as techniques for countering judicial burnout.
Why is well-being important to judges and frankly all attorneys? Because stress impacts our ability to make decisions and be competent legal practitioners. Ensuring that our physical, psychological, relational and other needs are met is important to our long-term success in the profession. It is really all about creating self-awareness and connection, which ultimately helps us do our jobs better.