KEVIN STEELE '92 AND TRACY STEELE '95 ESTABLISH EDUCATIONAL EQUITY SCHOLARSHIP AT DICKINSON LAW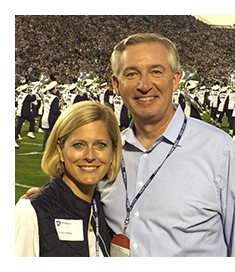 December 8, 2020 — Tracy Steele (class of 1995) and her husband, Kevin Steele (class of 1992), have both overseen the hiring of attorneys during their careers. Tracy formerly served as a hiring partner for a large international law firm, and Kevin is the district attorney for Montgomery County in Pennsylvania.
When the Steeles discussed their hiring experiences, they noted the similarities in background, race, and ethnicity shared by many of the applicants for their openings. "We both felt that the hiring pool needed to be enlarged. We noticed there was a lack of diversity among the candidates for our positions," said Tracy, a member of the Dickinson Law Association and the Dickinson Law Leadership Council.
The Steeles talked about what might help diversify the makeup of the applicants, such as access to education. The couple, who attended Dickinson Law at different times but met during a function there, appreciate the opportunities an excellent legal education afforded them and wanted others to see those benefits, too. "We both wanted to create more opportunities for underrepresented communities in the legal profession," said Kevin.
To help encourage more students of color to apply for and attend law school, Kevin and Tracy made a $25,000 gift to create the Steele Family Leadership Program Educational Equity Scholarship at Penn State Dickinson Law. Those funds have been matched 1:1 through Penn State's recently concluded Educational Equity Matching Scholarship Program.
"Educating our future lawyers is a pivotal issue to me. I really hope other alumni look at this gift and consider giving to Dickinson Law themselves," said Tracy.
"We hope to provide an opportunity to someone who may not otherwise be able to enter the legal profession, who would not be able to go down this track. We want representation from all communities, and we are stronger as a profession when we get such representation," said Kevin.
The Educational Equity Matching Program was established to create a more diverse, equitable, and inclusive Penn State by increasing the impact of new scholarships for students whose gender, race, ethnic, cultural, and/or national background contribute to the diversity of Penn State and who have a demonstrated financial need for funds to meet their educational expenses. While matching funds are no longer available, these scholarships remain a priority for the institution.
"We are happy to see a community commitment to increasing diversity. Many clients are demanding diversity in the law firms they hire, so, from my perspective, the best way to do that is by helping to educate diverse future lawyers," said Tracy.
Their gift complements the newly created Steele Family Leadership Program in Gender and Racial Equity, which was established earlier this fall by Kevin's father, J. Rodman "Rod" Steele, 1966, and stepmother, Karen Steele, as well as Kevin and Tracy.
"The Steele Family Leadership Program is an element that can give Dickinson Law a platform for raising its visibility and being on the cutting edge of issues centered around diversity, equity, and inclusion," said Kevin.
How does diversity benefit the legal profession? The Steeles believe surrounding yourself only with people who think the same way you do or have similar experiences has many drawbacks. "If you do that, you are unlikely to reach your full potential. Without having diverging views at the table, you won't see all the potential problems and solutions or take into account other points of view," said Kevin.
"When you see more perspectives, you make better-informed decisions," said Tracy, who focuses on commercial real estate law as a member at Ferro Steele. "Our perspectives come from our backgrounds and experiences."
Tracy and Kevin have been promoting diversity for many years. It is a thread in their giving decisions beyond Dickinson Law, including efforts to increase representation at their children's private schools. "We really want our children to grow up in an environment that is more representative of the whole world," said Tracy.
The Steeles' commitment will advance "A Greater Penn State for 21st Century Excellence," a focused campaign that seeks to elevate Penn State's position as a leading public university in a world defined by rapid change and global connections. With the support of alumni and friends, "A Greater Penn State" seeks to fulfill the three key imperatives of a 21st-century public university: keeping the doors to higher education open to hardworking students regardless of financial well-being; creating transformative experiences that go beyond the classroom; and impacting the world by serving communities and fueling discovery, innovation and entrepreneurship. To learn more about "A Greater Penn State for 21st Century Excellence," visit greaterpennstate.psu.edu.