GOOD CAUSES MAKE THE GREATEST CASES FOR MELISSA SCARTELLI '87
Melissa Scartelli '87 became the first female partner at her law firm less than 10 years after graduating from Penn State Dickinson Law. She loved her job and could see herself doing it comfortably for years to come.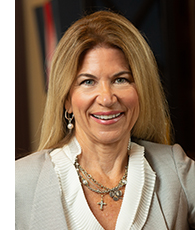 But Scartelli recognized that staying with a big firm meant passing up the types of cases she had always wanted to try, ones that didn't necessarily meet the economic requirements at a large firm. 
And so, in 2001, she founded her own firm. A few years later, her husband, Peter Paul Olszewski Jr., joined at Scartelli Olszewski, P.C. Now, Scartelli says, she takes causes, not cases.
"I try to dig a little deeper under the surface of the economics of a case, because there's often injustices that need to be righted, and that's the only way we can make a difference for other people," she says. "We are careful not to fall into a routine or pattern of handling things on a formulaic, numbers basis." 
Scartelli Olszewski has won a number of high-profile medical malpractice and personal injury cases, including a record $10 million verdict in 2017 for a man who suffered permanent injuries due to negligence. She remembers one case involving a woman in her 90s who was the victim of medical malpractice. The verdict was nearly $1 million. 
"Not a lot of lawyers at my level would want to try that case, but I think that's an example of a cause worth fighting for," Scartelli says.
Her belief in helping those in need extends to other areas of her life, too, such as her support of education through her continued involvement with Penn State Dickinson Law. 
"I feel strongly I wouldn't be where I am today in my career if it weren't for Dickinson and the contacts I made," says Scartelli, who notes a Dickinson Law grad also headed her previous firm.
The Scranton native serves on the law school's Board of Overseers and recently established the Edward R. and Marilyn Scartelli Scholarship honoring her parents, who encouraged her to become an attorney.
"Dickinson enabled me to fulfill my dream and my parents' dream for me. They were always supportive and would come to all my trials," she says. "They're not with me now, but they were with me every significant step of the way." 
So when Penn State offered to match funds for those who established a scholarship over the summer, Scartelli recognized the perfect opportunity to honor her parents and help young people with similar backgrounds as hers. 
"The first preference for the scholarship goes to students from northeast PA who do not have a lawyer in their immediate family — that was me," she says. "It feels good to be able to help future students." 
Running a firm demands long hours and lots of attention to detail, so Scartelli values her downtime. She and her husband live on a lake, and she unwinds by running, kayaking, boating, and paddleboarding. 
Keeping your balance on a paddleboard isn't unlike the balancing act she employs in her work life, choosing cases and appearing in court. Scartelli credits the exceptional program at Dickinson Law with preparing her for the courtroom upon graduation. 
"You're trained to think through the entire case, starting backwards with what you're asking the fact finder to find for you," she says. "I learned that through moot court programs and advocacy classes at Dickinson." 
Sometimes being prepared can even mean investigating other ways to get people the assistance they need without going to trial — another reason why Scartelli refers to her cases as "causes."
"If you do the right thing for the right reasons, the results will come, as compared to doing something for financial rewards," she says.