GISELLE SANTIBAÑEZ-BANIA JOINS DICKINSON LAW AS ASSISTANT DEAN FOR ACADEMIC AND STUDENT SERVICES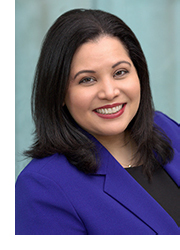 March 2023 — Giselle Santibañez-Bania, the new assistant dean for academic and student services at Penn State Dickinson Law, has found again and again that pursuing an unexpected opportunity can lead to great things.
As a high school senior, she applied to Washington University in St. Louis on a whim after a relative who was an adjunct professor at the school stopped by her house for dinner. She handwrote the application, which was due the next day, and sent it in. She received a full-ride scholarship, seeing the school for the first time when she arrived at freshman orientation.
During her third year at Loyola University Chicago School of Law, Santibañez-Bania took a trial practice class despite her tendency to become nervous speaking in front of crowds. She discovered she had a natural gift for litigation.
Another surprise decision led her, eventually, to Dickinson Law. Nearly a decade into a successful litigation career, Santibañez-Bania returned to Loyola University Chicago School of Law to assist its Latinx Law Students Association with a student mock trial team competition. She reached out to the dean of students about getting together for coffee. It turned out the dean had more than a quick campus meetup in mind. She told Santibañez-Bania about a job. "She said, 'I have an opening here, and I want you to apply for it,'" said Santibañez-Bania. "I was really happy at my position in the Attorney General's office. I loved the work I was doing. But at the same time, I had two little kids. And I thought a position in education might give me more life balance."
Santibañez-Bania took the job, working as the associate director of student services for nine years, then serving another five as assistant dean of student services. She discovered she drew energy from working with students. "They are so creative and passionate. There is something amazing about being around them," said Santibañez-Bania. "I joke that they keep me young. I enjoy getting to know them."
Last year, with their children nearly out of the house, Santibañez-Bania and her husband began discussing where they would like to begin their next phase. Did they want to stay in Chicago? Or was it time to venture somewhere new? They decided they wanted a smaller, quieter area. When Santibañez-Bania learned of an opening at Dickinson Law, she knew it could be an excellent fit. She had followed the antiracist efforts Dickinson Law has become known for over the past several years. "It is such an important thing," said Santibañez-Bania. "The world is changing very, very quickly, and I think that the academy is struggling to keep up with that. There are things that were said when I was in law school that were not OK, but everyone treated it like it was OK.
"It is so empowering that this new generation is standing up and saying, 'No, that is not OK. Let's change the narrative. Let's confront it.' It is critical for our social and mental health to focus on this kind of work."
Santibañez-Bania's duties at Dickinson Law include academic counseling, assisting students with accommodations, and supporting students with programming. "I will be intimately involved with the students and their activities, which is something I really look forward to. The size of Dickinson Law classes was a big draw for me," said Santibañez-Bania.
Santibañez-Bania, her husband, and their daughter have enjoyed exploring the restaurants around Carlisle since their move—Issei Noodle on High Street is already a favorite. The family, including their son in college, loves to travel and explore different cuisines, going to Italy and France last summer.