DICKINSON LAW WELCOMES POSTDOCTORAL FELLOW FOR CLASSICA PROJECT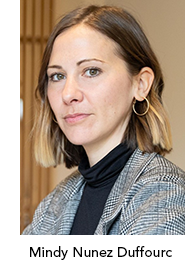 November 2022 — Penn State Dickinson Law is pleased to welcome Mindy Nunez Duffourc as a postdoctoral fellow for the CLASSICA project, which will clinically validate an AI-based clinic support system to rapidly identify cancerous tumors and map their distribution.
Spearheaded by Dickinson Law Assistant Professor of Law Sara Gerke, who serves as co-principal investigator, CLASSICA's AI-based technology will assist surgeons in real time during operations by accurately identifying cancerous versus healthy tissue. The four-year project is funded through a €6 million grant from Horizon Europe, the European Union's funding program for research and innovation.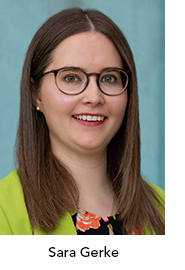 In her role as a postdoctoral fellow, Duffourc will work closely with Gerke on the study of the legal and ethical implications raised by AI-assisted surgery in CLASSICA. In particular, the team will focus on liability questions in the United States and Europe, thereby addressing concerns of surgeons who plan to use such systems. The team will also explore regulatory and data privacy issues and analyze new legal developments. Duffourc will oversee the day-to-day work of Dickinson Law's component of this interdisciplinary project, including conducting law, ethics, and policy research; drafting recommendations and reports; collaborating with other initiatives and projects; and coordinating efforts with collaborators from the Center for Advanced Studies in Biomedical Innovation Law (CeBIL) at the University of Copenhagen, as well as other CLASSICA partners.
"I am looking forward to working with Mindy on this exciting project. Her expertise in comparative health law and technology, with a focus on medical liability, make her an ideal fit for this position," said Gerke.
Duffourc is also an acting assistant professor of lawyering at NYU Law School. She is currently pursuing her Ph.D. from the University of Passau and holds a J.D. from the University of North Carolina.
"I'm thrilled to join the CLASSICA team. Professor Gerke is a leader in the health law and technology field and working with and learning from her is an invaluable experience for me. This also presents the rare opportunity for me, as a legal scholar, to work with an international and interdisciplinary team tackling both the practical and theoretical implications of cutting-edge medical AI technology," said Duffourc.
To begin their research, Duffourc and Gerke will explore the topic of liability in AI-assisted surgery from a comparative legal perspective (in the U.S. and Europe). Part of their work will also involve conducting a focus group with surgeons to discover concerns they have about using AI tools in surgery.
For more information on CLASSICA, please visit https://classicaproject.eu/ or, for regular updates, follow CLASSICA on Twitter @classicaproject.
---

Funded by the European Union. Views and opinions expressed are however those of the author(s) only and do not necessarily reflect those of the European Union or the Health and Digital Executive Agency. Neither the European Union nor the granting authority can be held responsible for them.