DICKINSON LAW PROFESSOR MOHAMED RALI BADISSY EARNS PRESTIGIOUS IEE SEED GRANT
April 2020 — The details are always in the fine print—and this lesson is being learned the hard way across Africa, challenging decarbonization efforts for the continent.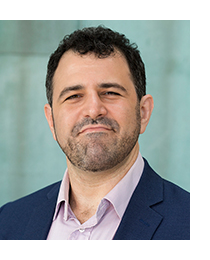 Governments throughout Africa are pursuing renewable energy mandates, energy efficiency standards, and other decarbonization reforms, but they face implementation challenges under legacy agreements for thermal power that often have been in place for decades. 
New deals can unintentionally run afoul of limitations imposed by old ones, sparking unintended consequences for these nations. 
Penn State Dickinson Law Assistant Professor of Law Mohamed Rali Badissy saw this dilemma play out firsthand during his stints in the public and private sector before joining the Dickinson Law faculty. Now, he's embarking on a research project to assess the barriers facing African governments trying to move forward with decarbonization. 
Badissy was recently awarded a $5,000 seed grant from Penn State's Institutes of Energy and the Environment (IEE) for his project, "Mapping Legal Liability from Power Market Decarbonization Policies by African Governments."
IEE's Seed Grant Program is highly competitive. This year, 22 proposals were funded out of the 51 that were received.
"I came from the U.S. government, where I had the privilege of working with foreign governments for the last decade," Badissy says. "I've seen what they come up against. In most of these nations, the government, rather than the private sector, is contracting to build the infrastructure for providing power. In that role, governments are trying to transition to a lower carbon power market but face this big liability from existing power project contracts. The luxury I now have at Dickinson Law is to focus on the big-picture challenge." 
Here's a snapshot of the issue: Governments are locked into long-term contracts for a power plant built decades ago in their country. That contract might specify that the government has to, for example, pay back money if it enacts new regulations that impact the power project, such as increasing energy efficiency standards or prioritizing renewable energy. 
Badissy notes many governments don't even realize these contract conditions are in place. The nation may have cycled through several administrations since putting the contracts in place.
"Often, current governments have no idea what they've signed up for," he says. "They've had multiple administration changes since that contract was signed. Our job will be a little bit of digging up of the old and analyzing with the knowledge we have today."
Badissy began thinking about the project last fall. Following a series of conversations with contacts in Sub-Saharan African governments, many of whom agreed to contribute their contracts to the project, he decided to apply for the grant. 
"The grant allows me to unlock some great resources and pay Dickinson Law students to help research and get a snapshot of the problem," he says. Many of Badissy's Dickinson Law students have expressed interest in assisting with the project, including several international students from Africa. 
First, they will build a database of legacy thermal power contracts from African governments. Step two involves analyzing the documents to identify clauses that could be triggered by new decarbonization policies. 
The team may employ customized software to search contracts for key terminology. "I'm talking to some developers to adapt existing resources to this project," Badissy says. 
The project aims not just to discover the issues with individual contracts but also to catalog patterns. "Commonality of the problems will suggest if there is enough of a concern here that it's worth applying for a larger grant," he says. 
Another grant could assist with actually addressing the problem, such as crafting legal strategies for African governments so they can restructure contracts to suit new decarbonization policies.
The coronavirus outbreak has not impacted his proposed timeline, Badissy says, noting there's no in-person component to the research. He's eager to get started. 
"I have a tremendous amount of empathy and respect for the challenge these governments have. The wheel is moving toward a lower-carbon direction, which makes simultaneously honoring past commitments and new ambitions really difficult," he says. "It's work I enjoy doing, but I think it's important at the same time." 
IEE works to build teams of researchers from different disciplines to see how new partnerships and new ways of thinking can solve some of the world's most difficult energy and environmental challenges.