DICKINSON LAW INAUGURAL AWARDS CEREMONY HONORS GRADUATING STUDENTS
Elikem Kofi Tsikata '21 delivers remarks as Lee Popp Award recipient
May 14, 2021 — Graduating students in the class of 2021 were recognized for their service and accomplishments during the Inaugural Dickinson Law Graduating Student Awards Ceremony held Thursday, May 13, 2021.
"Beyond the award that you will receive, we are going to remember and benefit from the contributions you have made to the Dickinson Law community," said Dean and Donald J. Farage Professor of Law Danielle M. Conway, who presided over the ceremony. "It reflects great honor on you that this award is being bestowed, but it truly benefits us—those who have been given the special benefit of your presence at the Law School and also your commitment to the ideals of the rule of law."
The virtual event is part of Dickinson Law's "Drive to Thrive" initiative, a comprehensive program to celebrate and support the Class of 2021 through the unique challenges caused by the COVID-19 global health pandemic.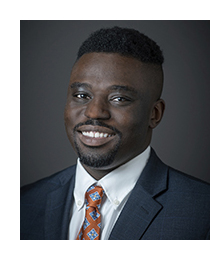 "'Drive to Thrive' was inspired by the class of 2021, who harnessed the drive to thrive even when facing an unprecedented road for nearly half of their legal education," said Associate Dean of Academic and Student Services Jeffrey A. Dodge. "This initiative was modeled after our  'Operation Realizing the Dream' program last year to help graduating students cross the finish line."
Elikem Kofi Tsikata '21 was selected by his classmates as the Lee Popp Award recipient, which recognizes a student selected by the third-year class who exemplifies excellence in service, extra-curricular activities, and devotion to the class. While noting the ceremony as a chance to recognize the excellence of its graduating students, during his remarks, Tsikata shared the excellence he is most proud of is that which takes the form of endured perseverance.
"That ability to endure, to push ourselves as students and lawyers and members of a community, even amidst once-in-a-lifetime chaos," said Tsikata. "As if law school wasn't hard enough, this iteration of our Dickinson Law community has endured three semesters, 15 months, 60 weeks, and 423 days of challenged legal education."
"After three 'normal' semesters, our class and many others across the country were indoctrinated into the amply named 'Zoom School of Law.' Members of our ranks dealt with ongoing health concerns. We lost out on job opportunities and promised placements. Months ensued without true connection to friends and family. And amidst everything, we were still asked to uphold Dickinson Law's mandate to Practice Greatness."
Tsikata shared that the class of 2021's ability "to withstand, to forge ahead amidst the chaos," is equally important to any technical skills learning during law school.
"After 423 days of law school during a global pandemic, I remember something most of all: that we are still here," said Tsikata. "Our time at Dickinson Law has instilled in us values that will better us as professionals and as people. Regardless of specialization or diversity of coursework, each student graduating today supplemented their legal education with a case study in resiliency."
Tsikata asked the class of 2021 to remember their hardships as they celebrate the achievements of one another and as they embark into their professionals' adventures.
"Remember that you have endured, and that you are capable," said Tsikata. "Remember that our education gives us the privilege, and more importantly, the duty to serve in some capacity, and create positive change when possible. And remember that your will, your ability to continue on, is why you are who you are."
"Thank you so much for taking up this mantle to defend the Constitution, to promote the rule of law, and to protect the most vulnerable among us," said Conway. "It is you that we will model, our future engagement with other students, who we hope and know will perform as admirably as you have."
View the class of 2021 award recipients here.