DICKINSON LAW FIRST-YEAR LAW STUDENT SELECTED FOR PRESTIGIOUS DON H. LIU SCHOLARS PROGRAM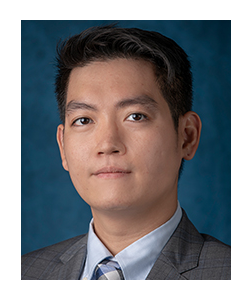 March 4, 2021 — Minh Eric Le '23 was recently selected as one of three law student scholars from around the country to participate in the prestigious Don H. Liu Scholars Program, which recognizes law students who excel in the classroom and show great potential to succeed in a top law firm or Fortune 500 corporation. Le will receive a financial scholarship of $15,000 as well as mentorship and assistance with his career development, including identifying potential internships.
"This recognition is an affirmation of my hard work during my first semester at Penn State Dickinson Law," said Le. "It also means that I not only belong in law school, but I also belong in the legal profession."
The Don H. Liu Scholars Program was founded by two past presidents of the Asian American Bar Association of New York, Jean Lee and Mike Huang, to "identify, cultivate, and inspire future Asian American leaders within the legal profession in order to address the single most important reality facing Asian American professionals today – the barrier to advancement." The Program is named after Don H. Liu, executive vice president and chief legal and risk officer for Target and a member of its executive leadership team, because of his longstanding commitment and dedication to supporting the Asian American legal community by mentoring a generation of Asian American lawyers.
Le applied for the scholarship because the mission of the program really resonated with him.
"I wholeheartedly agree with the Program's view that Asian Americans are underrepresented in leadership and power positions within the legal profession," said Le, who is a member of Dickinson Law's Asian Pacific American Law Student Association. "The Program was created to address that problem, and I am thrilled to be a part of the mission."
Born in Vietnam and raised in Ho Chi Minh City before moving to Brooklyn, New York, in 2002, Le grew up in a single-family household. He was able to attend college at the University of Vermont (UVM)—and now Dickinson Law—without any parental financial contribution.
"My mother was not able to contribute to my tuition, but she did give me the important attribute of perseverance," said Le. "I came to law school to advance in my career and achieve financial stability. Although it will be difficult, I believe I have the perseverance to do both."
Prior to attending Dickinson Law, Le served as a diversity accessibility and community outreach coordinator for Vermont Legal Aid, a paralegal for the New York Legal Assistance Group, a care navigator for the Institute for Family Health, and a donor coordinator for LiveOnNY. At UVM, he served on the Asian American Student Union Executive Board and co-founded the UVM Badminton Club. He graduated with a bachelor of science in political science and government.
Le shared that he is most looking forward to the mentorship aspect of the Program, including working with and learning from mentors. "As a first-generation law student, I have no family members to speak to about my law school journey and legal career path," said Le. "The Don H. Liu Scholars Program will change that by providing much needed guidance and counsel as I progress in my legal career. I will have access to a robust network of supportive individuals to socialize with, including previous scholars, program leadership officers, and attorneys in leadership positions. I hope I can utilize the mentorship and network to explore different career options."
While Le plans to enter the private sector after earning his JD, he is open to many practice areas and looks forward to helping other students of color.
"I want other students of color to attend law school and succeed in law school," said Le. "This is a profession that has a high barrier of entry, both financially and culturally. I want to break that barrier. With a law degree, I hope I can show others that a legal profession is a viable path."