DICKINSON LAW CELEBRATES JURIS DOCTOR AND MASTER OF LAWS GRADUATES
Class of 2021 faced unprecedented road for nearly half of their legal education
May 18, 2021 — Eighteen months before the onset of a devastating global pandemic, a racial reckoning in America, a turbulent political cycle, and a crushing economic crisis, students in Dickinson Law's class of 2021 began their law school journey at Lewis Katz Hall in Carlisle, Pennsylvania.
"Any one of these crucible events would have crippled the spirit of the toughest among us," said Dickinson Law Dean and Donald J. Farage Professor of Law Danielle M. Conway. "The class of 2021 showed us how to push through all of these adversities."
Rachel Tunney is one of 72 students in Dickinson Law's class of 2021 to earn a juris doctor (J.D.) or master of laws (LL.M.). She participated in the in-person commencement ceremony on Thursday, May 13, held at the Cumberland Drive-In in Newville as part of the Law School's "Drive to Thrive" initiative, a comprehensive program to celebrate and support the class of 2021 through the unique challenges caused by the COVID-19 global health pandemic. As part of the "Drive to Thrive" theme, which recognized not only the unusual backdrop for commencement but also the students' determination to thrive during the pandemic, members of the stage party arrived at the ceremony in classic cars. Honking and cheers could be heard throughout the venue following the speakers' remarks and the conferring of degrees.
Selected by her fellow graduates as this year's juris doctor student speaker, Tunney, who will clerk for the Honorable Abigail LeGrow, 2004, at the Superior Court of Delaware, recalled the class of 2021 being welcomed with open arms that first year to "Practice Greatness" and having been surrounded by greatness at Dickinson Law throughout her law school journey.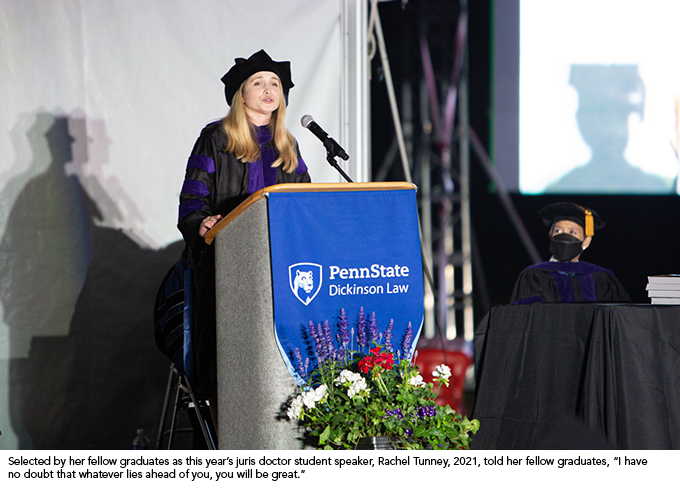 "When I first heard this motto, I imagined the alumni who had come before us," said Tunney. "People who were advocates and judges, all fighting passionately, successfully … greatly for their clients each and every day. When I think about the definition of 'practice,' to perform a skill repeatedly in order to improve one's proficiency, I realize that is what my classmates have been doing all along."
"Greatness was offering to send a struggling classmate your detailed notes even when you knew the professor was only going to give out six A's," said Tunney. "Greatness was being the voice for us all and refusing to be quiet. And it was delivering an oral argument mere days after your father was admitted to the hospital due to COVID-19."
"In addition to taking on additional heavy physical and emotional burdens over the last 18 months by comforting family, friends and community members during the pandemic, students in the class of 2021 stepped into leadership positions at work, at home, and in the community above and beyond their law school responsibilities," said Conway. "These students lent their strength, spirit and resources to their peers who, themselves, were called to expend their energies on the care and comfort of others." 
Former Chief Sustainability Officer for Comcast NBCUniversal Susan Jin Davis, 1990, delivered the keynote address.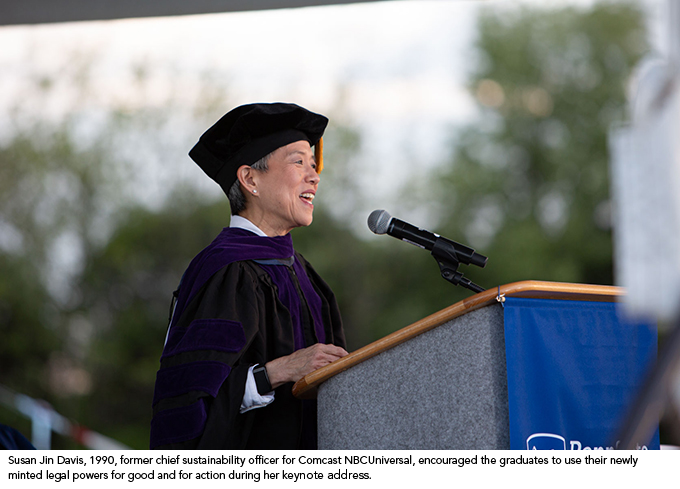 "You can't change the world if you don't believe the world can be changed," said Jin Davis, who during her remarks encouraged the graduates to use their newly minted legal powers for good and for action. "You've been well trained to not take anything at face value, to dig under the surface to what lies beneath, what is the issue, what is the rule of law, and then what needs to be changed. What can you do? Volunteer, do pro bono work, do public interest law. Join a coalition or create one around social justice. Write to your legislators, mentor and sponsor, especially someone who doesn't look like you. Donate, be an ally, speak up, and take action. Remember, the time is always right to do the right thing."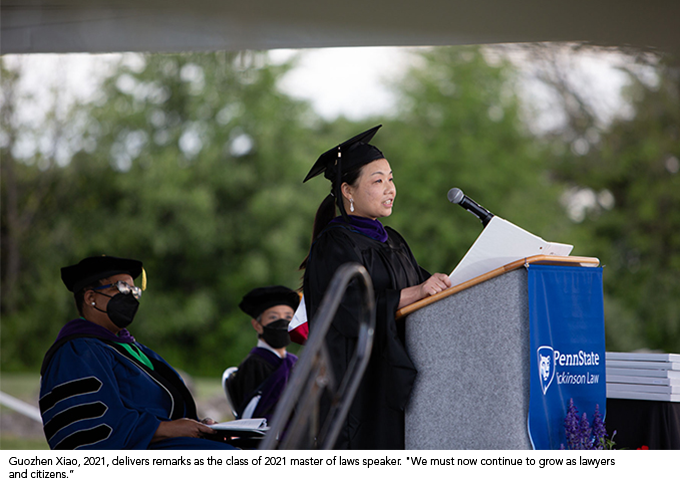 Guozhen Xiao, the master of laws graduate who delivered remarks to the class of 2021, encouraged her peers to break the shell.
"The days we spent in law school are the 'incubation period' of our lives,'" said Xiao. "Every class, every challenge, every page of a book, and every interesting conversation has made me grow. I believe the same for you. The bird that hatches from the shell must continue to grow before it can fly high. We must now continue to grow as lawyers and citizens."
Many of the class of 2021 graduates will launch their legal careers in a wide range of employment settings throughout the country and have accepted post-graduate employment offers that either require them to pass the bar or for which a J.D. degree is an advantage. Several will clerk for federal or state court judges, including in Delaware's Superior Court and Court of Chancery; work in government jobs, including in district attorney and public defender offices; and work in large, regional, boutique and small law firms; in public interest; and in business and industry.
Conway applauded the graduates for what they have individually and collectively accomplished over the past three years. "Your Dickinson Law community loves you, cares about you, is supportive of you, and is so very proud of you."
"Greatness is sitting here looking an unknown future in the eyes and saying, 'I refuse to give up,'" said Tunney. "Hear me when I say you are greatness, today. You have done what no other class before you has had to do. You completed half of your law school career online. You didn't ask for this challenge. You didn't ask for these circumstances. But those who are great never do. They cry. They scream. They doubt. But they persevere. And they get through it … like you did."
"I have no doubt that whatever lies ahead of you, you will be great," said Tunney. "Because you've been here. Practicing."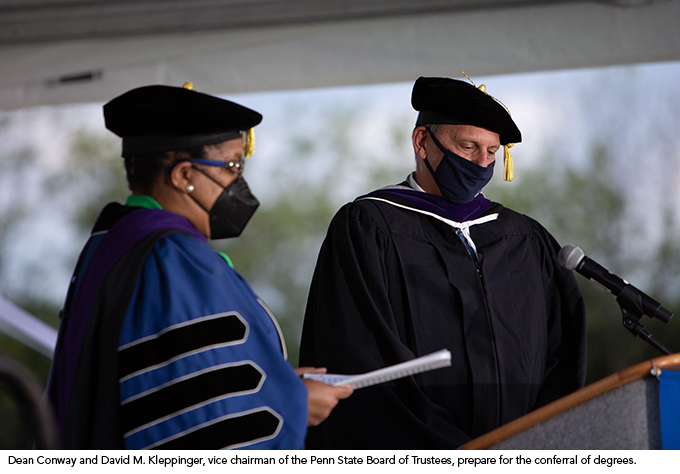 Nicholas P. Jones, executive vice president and provost at Penn State, delivered opening remarks. David M. Kleppinger, vice chairman of the Penn State Board of Trustees and chairman emeritus, McNees Wallace & Nurick LLC, conferred the degrees, which were presented by Amy C. Gaudion, associate dean for academic affairs and professor of lawyering skills.
In addition to an in-person commencement ceremony, "Drive to Thrive" included an in-person farewell event for the Dickinson Law community and the inaugural virtual Graduating Student Awards Ceremony, which recognized and celebrated graduating students' achievements. The initiative will also ensure that graduates have increased resources and support for the bar exam and for professionally transitioning to becoming licensed attorneys.
View photos from the class of 2021 commencement ceremony.