DEAN DARYL LIM JOINS INTELLECTUAL PROPERTY LAW SOCIETY FOR LUNCHTIME DIALOGUE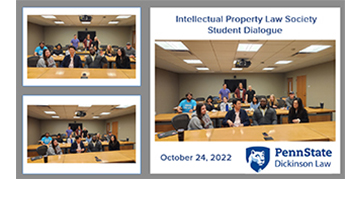 October 2022 — Dean Daryl Lim joined the Intellectual Property Law Society members for a lunchtime dialogue that Professor Martin Skladany moderated. In a wide-ranging conversation, they discussed the challenges IP practitioners face, AI's impact on IP law, initiatives companies and law firms have in place for diversifying their legal counsel, getting involved with the local community by being an ad hoc IP resource, and how students can position themselves to get good jobs in a competitive market.
---
Daryl Lim is the H. Laddie Montague Jr. Chair in Law at Penn State Dickinson Law and Co-Hire at the Institute of Computational and Data Sciences at Penn State University. He also serves as Associate Dean for Research and Innovation and founding director of the IP Law and Innovation Initiative.
Professor Lim is an award-winning author, observer, and commentator on national and global trends in IP and competition policy and how they influence and are influenced by law, technology, economics, and politics. He helps policymakers, attorneys, corporate counsel, scholars, and the public to make sense of the world around them. He is a founding member of the Global IP Alliance and its local chapters in Pennsylvania and Illinois. In addition, he serves as Co-Chair of the University Education Committee in the US IP Alliance. He consults internationally on various IP and antitrust issues.