CAPT. NICOLE ANDERSON RIMAL '14
APPELLATE GOVERNMENT COUNSEL
U.S. MARINE CORPS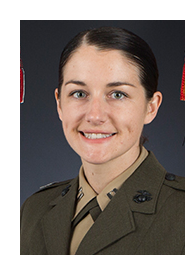 "I find it rewarding to help people in a way they could not have helped themselves."
Upon graduating from Dickinson Law, Capt. Nicole Anderson Rimal became a Judge Advocate in the U.S. Marine Corps. Within weeks of becoming a defense counsel, she was defending complex felony-level cases that, had she been on the civilian side, she probably would not have touched until she was years out of law school.
"I was defending Marines accused of terrible crimes like murder and rape," said Rimal. "I remember sitting there in awe, realizing these were not the sort of opportunities most of my classmates were going to get, but I had the chance and duty to help these Marines. It made me appreciate the path I had taken."
In the years since, Rimal has traveled the world as a Marine, including serving in Japan before taking her most recent assignment as an Appellate Government Counsel in Washington, D.C.
Rimal felt well prepared for living abroad after studying in Taiwan on a Boren Fellowship during her second year of law school. In addition to loving her study abroad experience, Rimal appreciated the way Dickinson Law professors cared for students on a personal level. "At Dickinson Law, like the Marine Corps, the focus is brilliance in the basics," said Rimal. "The general education of law courses enabled me to have the legal research and writing skills I needed to flourish wherever the Marine Corps sent me."