Capital Center for Law and Policy (CAP)-Impact Podcast featuring Professor of Law Katherine Pearson: Data Driven Practices for Protecting Older Adults
By Katherine C. Pearson, Professor of Law and Arthur L. and Sandra S. Piccone Faculty Scholar
September 14, 2019 — Recently I had the enjoyable experience of being interviewed by Jon Wainwright, project manager for the Capital Center for Law and Policy at McGeorge School of Law, University of the Pacific. His podcast project, CAP-Impact, is a well-developed resource to foster nonpartisan understanding of law and policy, offering a wide array of discussion topics, ranging from the role of lobbyists to science-based support for law reform.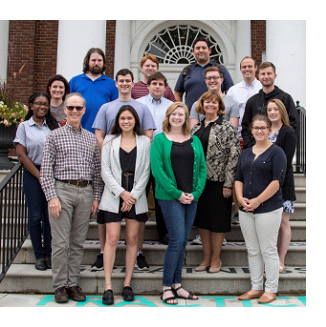 The interview focused on the Guardian Education Project I'm working on currently with community stakeholders, law students (Summer 2019 team pictured here) and faculty, with financial support from Penn State. This project is an outgrowth of the Pennsylvania Supreme Court's Elder Law Task Force that recommended changes in procedures and policies governing adult guardianships in Pennsylvania, including better education for new guardians.
For the actual podcast — about 25 minutes in length — go to Episode 53: Data Driven Best Practices for Protecting the Elderly with Professor Katherine Pearson.
Don't forget to "like" it — or whatever is appropriate as support for Jon's podcast project. As he amusingly pointed out, "elder law" isn't usually considered to be a sexy area for researchers, but as he demonstrates, what happens with older adults or others in potential risk of neglect or exploitation, is important!