BRIAN CLARK '85 ENDOWS A SUPPORT FUND TO PAY FORWARD ALL HE HAS RECEIVED FROM DICKINSON LAW
The way Brian Clark '85 sees it, Penn State Dickinson Law gave him the opportunity to have a successful legal career. Now he has the opportunity to give back.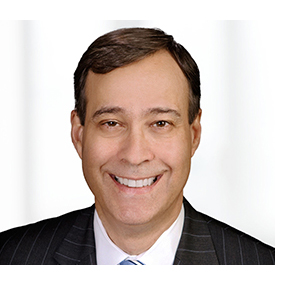 Clark, a member of Dickinson Law's Leadership Council and the Energy, Environment and Agriculture Trusted Advisors Group, recently pledged $50,000 to endow the Brian J. Clark '85 Energy and Environmental Law Program Support Fund at Dickinson Law. He also plans to give an additional $100,000 through his estate.
"As an alumus and trusted advisor, Brian's gift is a testament to his support and belief in Dickinson Law," said Dean and Donald J. Farage Professor of Law Danielle M. Conway. "I am grateful for his commitment to support programming to educate and cultivate the next generation of energy leaders, lawyers, lobbyists, and policymakers in the private and public sectors."
"If it weren't for Dickinson Law, what the faculty taught me, and how I applied those lessons, I wouldn't be the person I am today," said Clark, whose three-decade career spans involvement in landmark environmental and energy legislative initiatives as well as lead counsel on major environmental and energy infrastructure projects. "This is not about me—it's about Dickinson Law. I encourage others to think about their law school experience and the effect it had on them, and consider contributing."
Clark said Dickinson Law taught him three critical skills that helped him achieve the goal he set at age 10—to become a lawyer. The first skill is effective communication, including listening to both sides of an argument. "I developed listening skills that I have honed over the years," Clark said.
The second critical skill he developed was problem solving. "It is really what law school teaches you," said Clark. "You get all these facts, and you have to unravel them. It could be thousands of pages of documents in litigation or business transaction matters, sifting through the high points and looking for the red flags that could create a business crisis."
Finally, Dickinson Law taught Clark legal reasoning. He described this as applying the "black letter of the law," the indisputable rules that govern the legal system.
Clark said he has been impressed by the developments in the Dickinson Law curriculum initiated by Emeritus Dean Gary S. Gildin and continued by Conway. "It brings the practical side of the legal education into the 21st century, developing course material that really will help law students more easily bridge that big jump from law school to a successful and rewarding legal career," said Clark.
"Brian's gift is incredibly timely as Dickinson Law and the entire University focus on training a generation of lawyers and policymakers to navigate the current energy transition," said Dickinson Law Assistant Professor of Law Mohamed Rali Badissy, who has worked in the energy field in the private and public sectors.
"I think Dickinson Law is providing the next generation of lawyers with the education they need to be well-grounded and to be outstanding lawyers in this new century," Clark said.
He chose Dickinson Law hoping to get just such an education. His interest in the science of arguments and the process of developing logical points made him a natural fit for law school.
Growing up in the small town of Emporium, Pennsylvania, Clark became acquainted with Dickinson Law through a classmate whose father and grandfather attended the school. Clark admired Dickinson Law's high pass rate for the bar. He applied to Dickinson Law three years after receiving his undergraduate degree, enrolling after a stint working for the Pennsylvania State Senate.
"Dickinson Law was always at the top of my list of law schools. I wanted to practice in Pennsylvania, and I had an interest in government as well. Dickinson Law had a very strong administrative law clinic where you had the opportunity to litigate cases on behalf of state agencies during your third year, which I did," said Clark.
He returned to state government work after graduation, helping to write more than half a dozen environmental statutes related to recycling, storage tanks, hazardous waste cleanup and more. Clark went into private practice in the late 1980s, where he has continued to focus on energy and environmental law.
Today, he is a shareholder at Buchanan Ingersoll & Rooney PC, where he chairs the Environmental Practice Group. Clark's major accomplishments in private practice involve intricate and highly publicized cases spanning more than three decades. Some highlights include management of legally defensible environmental permits leading to the capital investment in new electric generating plants; advising a high-profile corporate client with post-9/11 anthrax contamination of its national headquarters; and handling multiple emergency environmental incidents involving pipelines, manufacturing sites and large industrial operations. Applying his Dickinson Law training, Clark believes that the best lawyers view themselves as "problem solvers."
"When you are successful in your profession, it is important to look for opportunities to give back to the next generation," said Clark. "I want to encourage those who went to Dickinson Law and also have fond memories to consider doing the same.
"I feel strongly that Dickinson Law, based on its history, government service and location, can be a leader in providing the next generation of lawyers in the energy field. There are exciting opportunities in that career field."
Badissy agrees. He notes that Dickinson Law has seen a large increase in the number of students taking energy courses and those who want to enter the energy industry.
"The amazing thing about Brian's gift is that it will allow us to take advantage of the deep experience with energy law in Pennsylvania and establish Dickinson Law as a center of excellence that is dedicated to developing lawyers who are able to navigate everything from permitting small-scale biodigesters in our farming communities to financing large-scale solar project," said Badissy.