"A PLACE WHERE EVERYONE REALLY CARES:" BRANDON J. BIEGENZAHN (CLASS OF 2004) ENDOWS SCHOLARSHIP AT DICKINSON LAW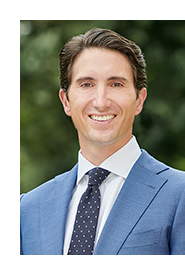 August 22, 2022 — Brandon J. Biegenzahn (class of 2004) learned a lot about himself during his years at Penn State Dickinson Law. His education came both inside and outside the classroom. He discovered that he thrived in a competitive yet supportive environment. He reaffirmed how much he valued community. And he recognized the value of connecting with experienced mentors.
"Those were three of the best years of my life," said Biegenzahn. "I was surrounded by intellectual horsepower the likes of which I had never known, in a bucolic town where you would see your professors at the movies. Over the course of those three years, I developed really deep and rich friendships. It felt like all of a sudden, my opportunities expanded tenfold."
As he reflected on it years later, he decided he wanted to do something to honor his time at Dickinson Law. "I really wanted to give back to a place that was foundational for me," said Biegenzahn. "As I thought about it, I realized I got so much more than I paid for."
Biegenzahn recently endowed the Brandon J. Biegenzahn Class of 2004 Scholarship at Penn State Dickinson Law. "I chose the endowed gift as it provides the benefit of giving in perpetuity, thus helping both students and the school alike for years to come," said Biegenzahn.
He gives back to the Law School in other ways, too. He has mentored 1L students, served as a guest lecturer for the "Practicing Law in a Global World: Contexts & Competencies" course, and hosted dinners for newly admitted students in Southern California, where he lives. Biegenzahn is also among the newest members of Dickinson Law's Leadership Council Advisory Board.
Following a new career path
Biegenzahn joined a large global law firm after graduation and worked on big transactions, such as the merger of Mandalay Bay and MGM Resorts. He enjoyed his clients, but he wanted to interact with them more closely. He preferred relationship-building to sitting in an office drafting deal documents.
He eventually shifted into executive recruiting. Today, he is the president of McDermott + Bull Executive Search, based in Orange County, California, where he also chairs the firm's Financial Services Practice Group. In executive search, Biegenzahn does something he learned to value at the Law School. He makes connections.
"I worked for several law firms over the years, and I realized that it was the client relationship which most fulfilled me, and I thought, 'What if I could take the relationship piece and turn relationships into my livelihood?' And that was when I found executive search. It suits me completely. I get to talk to clients about the trajectory of their business and candidates about their career arc and seek to find a match," said Biegenzahn.
He noted that while he does not practice law, he still relies on his legal education. "In law school, we are taught how to communicate, in both written and verbal form, in a very linear fashion. And we are taught to turn massive concepts into digestible layman's terms sound bites. Those are things I apply in my work today," said Biegenzahn.
Valuable life experience
When Biegenzahn reflects on his Law School years, he says the value goes beyond what happened in the classroom. He appreciated opportunities like studying abroad in his 2L year. "We live in a globalized world that is also so incredibly small, and to have the ability to see it firsthand while studying in Europe was huge," said Biegenzahn. "Law school was not just about the law. We did many other wonderful things, too; one example is going to an annual law school softball tournament in Charlottesville, Virginia. Our class had such a good time doing that, and I know other classes have done it as well."
He is happy to give back to Dickinson Law because he received so much in return. "I expanded my horizons intellectually beyond what I had ever envisioned, surrounded by people who were doing the same thing, at a place where everyone really cares about one another, at a school that fostered connectivity and broader thinking," said Biegenzahn.