DICKINSON LAW STUDENTS EARN THIRD PLACE IN ARTIFICIAL INTELLIGENCE WRITING COMPETITION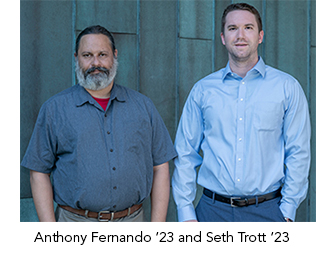 August 30, 2021 — Second-year Dickinson Law students Anthony Fernando and Seth Trott were recognized as the third-place winners in the Center for Legal and Court Technology's (CLCT) Fourth Annual Artificial Intelligence (AI) Writing Competition. Their co-authored article, "My Pet Car? Assigning Liability When Artificial Intelligence Causes Harm," explains how the U.S. legal system might assign liability when a highly autonomous product causes harm.
A joint venture of William and Mary Law School and the National Center for State Courts, CLCT is a non-profit research, education, and consulting organization that works to improve the administration of justice through the use of technology. Fernando and Trott will receive a cash prize provided through grant funding by the Silicon Valley Community Foundation and the opportunity to present their paper to executives from Cisco Systems Inc. this fall.
Fernando and Trott entered the writing competition after getting to know each other outside the classroom through Law Review Squared, a podcast produced by Fernando. Each episode features a panel of Dickinson Law students discussing a law review article with its author or fellow panelists and is how Fernando learned of Trott's interest in tech law.
"Most of my technical writing prior to law school was done collaboratively," said Fernando. "Given Seth's interest in tech law, I proposed we enter the writing competition together.
Trott, who spent a few years prior to law school developing an energy tech startup and became interested in how technology shapes the future, and Fernando, a biologist, brainstormed possible subtopics within the larger topic of legal issues raised by the emergence of artificial intelligence.
"There are several budding technologies that have the potential to drastically change society—from AI and implantable technology to the arguably less alluring mid- or far-field wireless charging and semiconductors," said Trott. "Those of us in the legal realm need to continue to assess the impact of emerging technologies and prepare for their widespread, responsible adoption."
"Once we revised our topic down to the smaller question of, 'How does the legal system assign liability when a highly autonomous product causes harm?,' we were able to research the topic more efficiently," said Fernando. "We chose to focus on tort liability because at the time, we had just completed Torts class with Professor Mogill."
Fernando and Trott analyzed liability from both a product-liability standpoint and from a user standpoint. After dividing the work and conducting research and writing, Fernando and Trott independently arrived at the same analogy: highly autonomous products and vehicles are like pets and can be treated as such under the law as it currently stands.
Their research suggests strict liability could apply to situations where damages are caused by autonomous products, even though strict liability is generally not applied to damages caused by software. Making the owner or operator liable for such damages protects the innocent injured party from being required to untangle a complicated set of licensing agreements to determine who was responsible.
"Our strengths complemented each other well," said Trott. "I'm a non-technical writer who can weave narratives together to create a sort of tapestry, whereas Tony is very technical and can tell you how these technologies work down to the molecular level—something I'll never quite grasp."
Both Fernando and Trott agreed that their Dickinson Law education was the cornerstone of their preparation, including their torts, legal writing, and legal research classes.
"Using an outlet like this competition to synthesize and apply the Dickinson Law curriculum to a cutting-edge legal topic was an excellent practice in expanding the skills we're learning in the classroom," said Trott.
Fernando said the competition provided a practical opportunity to conduct legal research and write Bluebook citations under "live" conditions. For Trott, gaining the understanding of how to write academic legal articles was a big takeaway.
"Having never written a legal publication, I was happy with the outcome of the piece but wasn't sure if it was what the judges were expecting to receive," said Trott. "The acknowledgement of our work on an international scale further instilled that the education we are currently receiving at Dickinson Law is truly preparing us to successfully enter the legal sector." 
"I think the atmosphere at Dickinson Law makes it easy to decide to take advantage of opportunities beyond coursework but doesn't pressure you to feel like you must be doing anything extracurricular," said Fernando. "I generally feel that the best way to improve writing is to write, so I look for writing opportunities. I remember thinking that even if we didn't do well in the competition, we'd have the core of something that could be turned into a law review comment that could be submitted to one of the law reviews that specializes in technology issues."   
"Publications can be one of the most attractive ways to build your resume and show employers you're competent," said Trott. "You not only get to delve into an obscure or not-yet-existing area of law and practice piecing together a cogent argument, but you also get to say something. Any chance to potentially impact the future of law, even in a microscopic way, is always an inspiration and worth every effort." 
According to the CLCT, participants in this year's competition analyzed a wide array of technology topics, including ethical issues arising from facial recognition technology, deepfakes, and predictive algorithms; the digital divide amongst populations; the constitutionality of the American criminal justice system's use of Artificial Intelligence; and risk management and liability related to IoT devices. Submissions were received from a number of schools including NYU Law, Georgetown Law, Indiana University Maurer School of Law, Appalachian School of Law, Babes-Bolyai University (Romania), the European University Institute (Italy), King's College London (UK), Rajiv Gandhi School of Intellectual Property Law (India), Strathmore Law School (UK), Universidade Nacional de Lomas de Zamora (Argentina), and more.