ANNUAL EMPLOYEE APPRECIATION LUNCHEON HELD
May 2023 — Penn State Dickinson Law held its annual employee appreciation luncheon on Monday, May 15. During the event, faculty and staff received awards and recognition for years of service milestones and dedication to the Law School.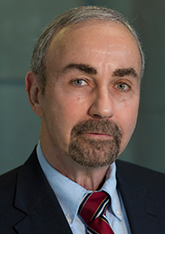 Professor of Law Michael Mogill, who joined Dickinson Law on August 1, 1989, recently announced his retirement at the end of this semester. Mogill was recognized for his devotion to the Law School and for his dedication to our core values of community, teaching, research, and scholarship.
Professor Samantha Prince made the presentation and noted that "Michael has been such an important part of our community, internally and externally. Lunches with students is one example that sticks out. But really and truly, Michael is always here and is so kind and giving with advice. He has been a mentor to me over the years and he has inspired me to help others as well." Prince finished by thanking Professor Mogill for "not just for all he's done, but for being the amazing colleague that you've been. You will be missed but your legacy will last forever in the hearts of everyone who you've inspired!"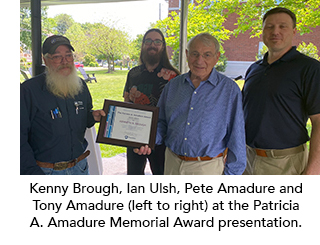 The 2022-2023 Patricia A. Amadure Memorial Award was presented to Kenneth R. Brough in recognition of industriousness, good humor, dedication and loyalty to Dickinson Law, its students and alumni. Brough joined the Tech Services department of the Law School on July 6, 1992. One nominator stated that, "He is one of the hardest workers the Law School has ever had. His dedication and loyalty to this school can never be questioned. Even when he is hurting, he keeps going to make sure this place keeps going."
A second nominator added "Without him, the Law School building, old and new, would have fallen apart a long time ago. No matter what obstacles are placed in his way with keeping the building going, he finds a way to make things work. He really cares about the building."
Presenter Ian Ulsh noted that Ken "knows the building like the back of his hand. Kenny Brough is seen and rarely heard. His ability to sneak up on you is second only to his wit and humor. But most of all, Kenny is kind and always willing to help you. No matter the question, he's got an answer with the associated backstory."
In addition, employees who were recognized for years of service milestones recorded in 2023 include:
40 years:

Sherry L. Whitlock, Multimedia Specialist

30 years:

Kenneth R. Brough, Technician, Heating and Ventilating

20 years:

Linda M. Evans, Senior Information Technology Training Specialist

15 years:

Amy C. Gaudion, Associate Dean for Academic Affairs and Professor of Lawyering Skills
Jessica L. Burd, Assistant to Financial Officer and Bursar

10 years:

Trisha S. Prosser, Law Clinics Coordinator
Bekah A. Saidman-Krauss, Associate Dean for Admissions and Financial Aid

Five years:

Grant K. Mauro, HVAC Maintenance Mechanic
Laura A. Weakland, Annual Giving and Stewardship Coordinator
Lori M. Rogers, Admissions Operations Coordinator
Rebecca M. Schreiber, Director of Admissions and Financial Aid