ANN ROCHE '18
STAFF ATTORNEY
SOUTHEASTERN OHIO LEGAL SERVICES
"We are often the last line of defense between someone and a crisis."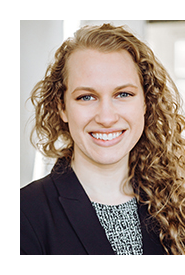 Ann Roche's superpower is listening. As a staff attorney for Southeastern Ohio Legal Services, Roche serves clients facing difficult circumstances, such as an eviction or criminal record.
"When people come to an attorney, especially to legal aid, they are not at a high point. It is rarely a good thing for them," said Roche. "I try to take the time to build a rapport and really listen, even if much of what they're saying isn't really relevant to the legal aspects of the case. For so many clients, this is the first time they have been listened to in years."
Through their legal services, Roche and her colleagues give these clients a voice. "Allowing people to be heard is one of the greatest benefits you can give," said Roche.
Listening, she said, is a skill she honed at Dickinson Law in the Medical-Legal Partnership (MLP) Clinic with Dickinson Law Assistant Professor of Law Medha D. Makhlouf, in the Children's Advocacy Clinic with Professor of Clinical Law and Clinic Director Lucy Johnston-Walsh, and in Poverty Law class with Adjunct Professor of Law Rhodia Thomas.
Roche said listening creates a trust that is imperative to many cases, and it can lead to rewarding outcomes. "There's nothing quite like clients' tears of joy when you can help. Most often after a win it's a simple sigh of relief, but that's something that reminds you the work matters," said Roche.