Ana Paulina Gomez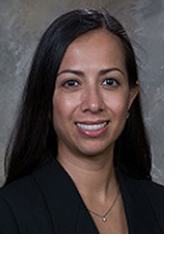 Adjunct Professor of Law
Assistant Counsel
Governor's Office of General Counsel
Pennsylvania Insurance Department
333 Market Street, 17th Floor
Harrisburg, PA 17101
 
About Gomez
As counsel for the Pennsylvania Insurance Department, Ana Paulina Gomez represents the Department in litigation before administrative tribunals and Pennsylvania appellate courts. She also provides the Department with legal advice regarding complex insurance matters and has experience with Pennsylvania's Right-To-Know Law, contractual, and procurement matters, among others. Gomez is a member of the Office of General Counsel's ("OGC") Hiring Committee and serves as a trained mediator. She has mediated cases involving the Pennsylvania Human Relations Commission and the Department of State. She is an Editor for Houston's Legacy, the newsletter of the Pennsylvania Bar Association's (PBA") Minority Committee and is also the Vice-Chair of the PBA's Government Lawyers' Committee where she is responsible for organizing and developing CLE programs for attorneys across the Commonwealth.
Prior to working for the Insurance Department, Gomez worked for the Pennsylvania Department of Education ("PDE") where she litigated educator misconduct cases and Right-to-Know Law matters at the administrative and appellate level (state and federal). Prior to joining the OGC, Gomez was an Assistant District Attorney at the York County District Attorney's Office from 2012 until 2015. Prior to her work as an ADA, Ms. Gomez clerked for the Hon. Thomas Kelley in York County. Gomez attended Penn State Dickinson Law (2010) where she interned for the Hon. Yvette Cane, U.S. District Court for the Middle District of Pennsylvania and served as a Senior Editor for the Penn State Environmental Law Review and was a Miller Center for Public Interest Fellow.
Gomez is an accomplished speaker and she has given presentations on a variety of topics such as litigation practice, diversity, and attorney ethics among others. She is admitted to practice before the Supreme Court of Pennsylvania and the United States District Court for the Eastern District of Pennsylvania.