ALUMNUS HONORED WITH GIFT TO DICKINSON LAW'S JOHN W. BLASKO SCHOLARSHIP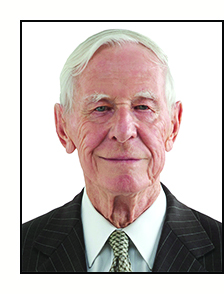 July 27, 2021 — A few years ago, class of 1962 alum John W. Blasko received a letter from a student attending Penn State Dickinson Law. The young man had been awarded the John W. Blasko Scholarship, and he wanted to thank Blasko's firm, McQuaide Blasko, for endowing the award. He explained what a difference the scholarship had made in his ability to prioritize his studies.
"He had two children, was married, and worked three jobs at various times while he was in law school, and he was a good student," said Blasko. "He needed that tuition assistance."
Blasko knows firsthand how critical receiving support while attending law school can be. He was also young, married, and looking for ways to support his family during his time at Dickinson Law, once going so far as to compile the shorthand notes he took in a property law class and sell them to fellow students.
Now, said Blasko, with law school tuition rising, supporting the next generation of lawyers has never been more important.
"Students need the scholarships to make it through, especially if they are married and have a family. It is worth it to fund these things," said Blasko.
Blasko and his firm have shown their commitment to such support again and again. In honor of the 100th anniversary of McQuaide Blasko in 2021, and to honor Blasko's service and career, the firm has pledged an additional $100,000 to the John W. Blasko Scholarship.
A legacy of giving
McQuaide Blasko has given generously to Penn State over the years. The scholarship is one of four endowments created at the University by a 1999 gift, along with the Delbert J. McQuaide Cancer Research Fund in the College of Medicine, the McQuaide Blasko Young People's Program in the Center for the Performing Arts, and the McQuaide Blasko Performing Arts Series. In 2014, the latter two were combined to become the McQuaide Blasko Endowment in the Center for the Performing Arts in the College of Arts and Architecture.
McQuaide Blasko, which has offices across central Pennsylvania, including State College, Hershey, Hollidaysburg and Williamsport, also endowed the McQuaide Blasko Research Professor Award at Dickinson Law in 2005. It gives consideration to "all faculty members of (Dickinson Law) on the basis of exceptional scholarly accomplishments, creativity, and promise."
Consideration for the John W. Blasko Scholarship is given to full-time law students who have a demonstrated financial need to meet their law school expenses, with preference given to law students attending Dickinson Law.
"I always thought that a legal education was the best education to have, even if you did not become a lawyer," said Blasko. "You learn how to think and learn how to reason."
Evolving with the times
The firm that would become McQuaide Blasko was founded by John G. Love Jr., the son of a Civil War veteran. An ambulance driver in France during World War I, Love returned to the United States and earned his law degree, opening a practice in Bellefonte, Pennsylvania.
Blasko joined the firm in the early 1960s. He notes that the two most significant changes he has seen since that time are the evolution of technology, which ultimately made it possible for the firm to continue to see clients on Zoom during the COVID-19 shutdown, and the move away from general practice law.
"I started out as a general practitioner, but it is difficult to be a lawyer for all things," said Blasko. "We made a firm decision in 1970 that we wanted to specialize, and we wanted to grow. It turned out to be the best decision. We have 68 employees now, including 30-some lawyers, which grew from three over the years."
Blasko looks back fondly on his formative years at Dickinson Law that provided the foundation for his successful career, and he remains thrilled to have the chance to help future graduates like the one who wrote the note about the scholarship. "It is important in life and the practice of law to follow fundamental values of integrity; responsibility; patriotism; and respect for others, for our legal system, for our institutions of government, and for our colleagues of the bar," Blasko said.
McQuaide Blasko's commitment will advance "A Greater Penn State for 21st Century Excellence," a focused campaign that seeks to elevate Penn State's position as a leading public university in a world defined by rapid change and global connections. With the support of alumni and friends, "A Greater Penn State" seeks to fulfill the three key imperatives of a 21st-century public university: keeping the doors to higher education open to hardworking students regardless of financial well-being; creating transformative experiences that go beyond the classroom; and impacting the world by serving communities and fueling discovery, innovation, and entrepreneurship. To learn more about "A Greater Penn State for 21st Century Excellence," visit greaterpennstate.psu.edu.