May Hennessy '25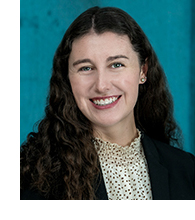 Hometown: Drexel Hill, PA
Email: mch5480@psu.edu
Schedule a meeting with May!
Legal Areas of Interest: Intellectual Property Law
Undergraduate Study: Temple University with a degree in Civil and Environmental Engineering, minor in Economics
Campus and Community Involvement: I'm currently serving as president of Intellectual Property Society, BARBRI student rep, PLI student rep, and as a research assistant for Professor Newton.
Life Before Dickinson Law: Before coming to Dickinson Law, I worked as an engineer for a large construction company!
A Dickinson Law Favorite: The food trucks that the school brings in!
Why Dickinson Law?: I chose Dickinson Law because of the people. It's a small community, and everyone is so friendly and wants to see you succeed. It's exactly what I wanted in a law school!
Externship Experience: I've worked in a judge's chambers as a summer clerk, where I worked through appeals from people in the criminal justice system, as well as assisting with any courtroom proceedings, or anything else that the judge needed.
Favorite Course: Property Law
Advice for Prospective Law Students: Trust yourself! It's easy to get overwhelmed and feel like you have to do a million different things to do law school the "right" way, but you know yourself better than anyone else does. Don't be afraid to do what's best for you and what you feel like you need to do to have a successful and rewarding law school career.
Something You Love About Carlisle: It's like a town from a Hallmark movie! I love the many different festivals that the town sponsors, as well as the farmer's market that is open every Wednesday afternoon.
On Choosing A Law School: Visit schools that you are seriously considering. You can get a feel from a school from visiting that you won't be able to get any other way.
You'd Never Guess That… : I climbed Mount Vesuvius!
Favorite Book: The Stand by Stephen King