Llewellyn Searing '25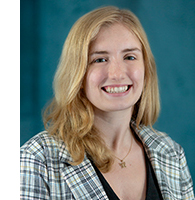 Hometown: Dallas, Texas
Email: las7135@psu.edu
Schedule a meeting with Llewellyn!
Legal Areas of Interest:
Immigration Law and Accessibility Law
Undergraduate Study:
Mathematics and International Affairs, University of Maine
Campus and Community Involvement:
Women's Law Caucus, SBA Wellness Committee, International Law Society, Dickinson Law Review, Criminal Law Tutor
Life Before Dickinson Law:
College Student
A Dickinson Law Favorite:
Curtilage Comebacks
Why Dickinson Law?:
Dickinson Law allows students to pick their own path. As someone who is interested in international law and immigration law, I wanted a school where there were many options.
Externship:
Community Justice Project
Favorite Course:
Medical Legal Partnership Clinic
Advice for Prospective Law Students:
Feel confident about your study habits! I have a yoga ball and a whiteboard, and during finals season, both were invaluable.
Something You Love About Carlisle:
All of the different restaurants and breweries! We have so many different places to eat, but the town is small enough to become a regular at your favorite.
On Choosing A Law School:
Choose a law school that sets you up well for pursuing your future career goals.
You'd Never Guess That… :
I've played cello for 12 years.
Favorite Book:
Howl's Moving Castle by Diana Wynne Jones