KC Read-Fisher '25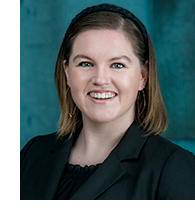 Hometown: Cranbury, NJ
Email: kcr5326@psu.edu
Schedule a meeting with KC!
Legal Areas of Interest: Labor Law, Disability Law, Government Law, Personal Injury, Plaintiff-Side Litigation
Undergraduate Study: Scripps College, CA
Campus and Community Involvement: SBA Outreach, Committee Neurolaw & Policy Society Web and Events Coordinator, OutLaw, Pardon Project Coach
Life Before Dickinson Law: I worked in entertainment as an actor and a stage manager! I primarily worked on theater productions, and my favorite job was working on a production of Stuart Little. I also worked a multitude of retail jobs and was a crew member at Trader Joe's.
A Dickinson Law Favorite: Wellness Wednesdays
Why Dickinson Law?: I chose Dickinson Law because I felt incredibly welcomed and wanted. The students, faculty, and staff are inclusive and kind and create an environment that allows everyone to succeed.
Externship Experience: Law clerk at Kline & Specter, P.C., and legal extern at Pennsylvania Office of General Counsel, Department of Labor and Industry
Favorite Course: Civil Procedure
Advice for Prospective Law Students: The path to becoming a lawyer is truly a marathon, not a race. Don't forget to stay hydrated!
Something You Love About Carlisle: Tickets to the movies are $10 for students!
On Choosing A Law School: Trust your gut. You know yourself better than anyone else, and you deserve to find a school that offers a community you can see yourself thriving in.
You'd Never Guess That… : I've driven a U-Haul across the country, by myself, twice. I can also taste the color of M&M's.
Favorite Book: Jurassic Park by Michael Crichton