DICKINSON LAW HOSTS 16TH ANNUAL JUDGES' NIGHT
February 22, 2019 — First-, second-, and third-year Dickinson Law students met members of the judiciary from across the state at the Law School's 16th annual Judges' Night, hosted by Phi Alpha Delta – Burr Chapter on Tuesday, February 19, at Lewis Katz Hall.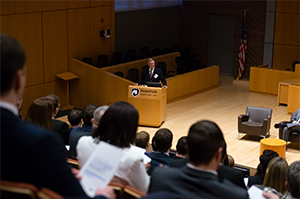 Dickinson Law is the only law school in Pennsylvania to offer this networking event to its students, which provides the opportunity to network and socialize with local Pennsylvania judges from both federal and state courts.
"Judges' Night connects law students with members of the judiciary from all levels—from local magisterial district judges and state appellate court judges to judges on the Third Circuit," said Lauren Hartley '15, recruitment coordinator for Dickinson Law's Career Services Office. "Many are Dickinson Law alumni. It is a wonderful opportunity to highlight their accomplishments and for them to discuss their career paths with students. It seems that each year, at least a few students receive summer internships or offers to interview for post-graduate clerkships as a result of the evening."
The Honorable Thomas I. Vanaskie '78, a retired judge from the U.S. Court of Appeals for the Third Circuit, delivered opening remarks and spoke about his career, the impact that technology has had on his career, and his experiences as an adjunct professor at Dickinson Law. Following his remarks, students attended a reception and formal dinner, where they interacted with the judges in a social setting, shared more about their future aspirations, and asked various questions about the judges' careers.
Jack Kerwin, a first-year law student who attended Judges' Night, connected with The Honorable Thomas Placey of the Cumberland County Court of Common Pleas. "As an aspiring prosecutor, I am always searching for opportunities to gain experience in the realm of criminal law. When I expressed to Judge Placey that I recently accepted an internship at the Lancaster County District Attorney's Office, he invited me to attend one of his trials to witness justice in action and gain perspective about the field of criminal law. I look forward to using my connection with Judge Placey to further explore my career goals as a prosecutor."
"Even if you are able to interact with judges while in law school, it is rarely in a setting as intimate as Judges' Night," said Ben Forbes '19. "It is hard to find a better opportunity to network with judges and gain valuable insight than this event."
The following judges attended this year's event: The Honorable Thomas Vanaskie, U.S. Court of Appeals for the Third Circuit; The Honorable John E. Jones III, U.S. District Court for the Middle District of Pennsylvania; The Honorable Victor Stabile, Superior Court of Pennsylvania; The Honorable Alice S. Hartye and The Honorable Kuyomars Golparvar, York Immigration Court; The Honorable Albert Masland and The Honorable Thomas Placey, Cumberland County Court of Common Pleas; The Honorable William T. Tully, Dauphin County Court of Common Pleas; The Honorable Paula A. Roscioli and The Honorable Jennifer R. Sletvold, Northampton County Court of Common Pleas; The Honorable Mark W. Martin, The Honorable Charles Clement, Jr., and The Honorable Kathryn Silcox, Cumberland County Magisterial District Judges; The Honorable Lindy L. Sweeney and The Honorable Joel N. Toluba, York County Magisterial District Judges; and The Honorable B. Denise Commins and The Honorable Jodie Richardson, Lancaster County Magisterial District Judges.
View photos from the event here.