DICKINSON LAW NAMES INAUGURAL PUBLIC INTEREST SCHOLARS
October 11, 2018 — Recognizing a long history of public interest service by its students and alumni, and in conjunction with the 185th anniversary of its founding, Penn State's Dickinson Law recently launched the Public Interest Scholars Program.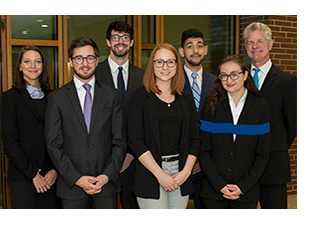 Third-year law students Courtney Lewis and Marcus Spisso, and second-year law students Tara Giarratano, Samuel "Trey" Manning, and Tyler Ritchie were named the inaugural scholars by Dean Gary S. Gildin and Lauren Hartley '15, who serve respectively as Director and Assistant Director of the Law School's Miller Center for Public Interest Advocacy and the Law—the Law School's educational hub for all facets of public interest and pro bono.
"The Public Interest Scholars are leaders in public interest activities not only at Dickinson Law, but also in the community," said Gildin. "We are excited to witness the positive contributions they will continue to make."
From criminal justice reform to environmental justice of juvenile advocacy, the inaugural Scholars represent commitment to a spectrum of issues in public interest law. They also serve in leadership roles within the community and the Law School, including as Dickinson Law's student representative to the Carlisle Borough Council, president of Dickinson Law's Black Law Student Association, and student coordinators for a variety of Dickinson Law's pro bono projects.
Among the benefits of being named a Public Interest Scholar are an annual scholarship; a guaranteed summer fellowship through Dickinson Law's IOLTA (Interest on Lawyers Trust Association) Summer Fellowship Program, which places students at organizations throughout the state that provide direct legal services to vulnerable populations; financial support to attend public interest-related conferences and events nationwide; and preferential consideration for annually awarded post-graduate fellowships.
Students named Public Interest Scholars will complete at least 10 hours of public interest-related leadership activities, including mentoring incoming and first-year law students interested in pursuing public interest law, speaking on panels, and serving as a pro bono project coordinator.
According to Hartley, the inaugural Scholars were selected based on academic achievement, a demonstrated commitment to a long-term career in public interest, and past participation in activities contributing to the promotion of public interest at Dickinson Law. 
"Public interest has been a core component of Dickinson Law's culture for many years, and students have always led the way," said Hartley. "The Scholars Program allows us to build an even stronger core of public interest student leaders, and recognize and support them."
In August 2018, preLaw Magazine named Dickinson Law a top law school for public interest law. Earlier this year, the Law School ranked first for government employment as part of preLaw Magazine's best schools for public service.
Learn more about Dickinson Law's Public Interest Scholars Program.
---
Pictured left to right are Dickinson Law Recruitment Coordinator and Miller Center for Public Interest Advocacy and Law Assistant Director Lauren Hartley '15, Marcus Spisso '19, Tyler Ritchie '20, Courtney Lewis '19, Samuel "Trey" Manning III '20, Tara Giarratano '20 and Dickinson Law Dean and Miller Center for Public Interest Advocacy and Law Director Gary S. Gildin.