Melanie Lynn Vanderau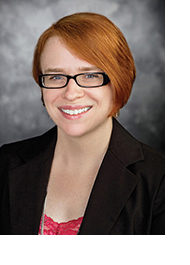 Adjunct Professor of Law
Shareholder
Mette, Evans & Woodside
3401 North Front Street
Harrisburg, PA 17110
Email: mlv145@psu.edu
Phone: 717-232-5000
About Vandereau
Melanie Vanderau is a shareholder in Mette Evans & Woodside, where her practice primarily focuses in the banking law and business law practice areas.
Vandereau's work in banking law includes clients from all types of financial institutions throughout Pennsylvania. She regularly advises clients on regulatory and compliance issues, including federal and state banking regulations and Articles 3 and 4 of the Uniform Commercial Code. Vanderau also advises clients regarding facilitating and closing loans; loan workouts; bankruptcies and mortgage foreclosures; and other creditors' rights matters.
In addition, Vanderau works with all types of business entities from closely-held and public corporations to partnerships and sole proprietors to provide comprehensive legal counsel on corporate formation, corporate compliance, and asset purchases and mergers. She previously served as vice president and bank counsel in an in-house capacity for a regional bank.