PROFESSOR BADISSY'S RESEARCH ON PA SOLAR ORDINANCES SUPPORTED BY PENN STATE CENTER FOR ENERGY LAW AND POLICY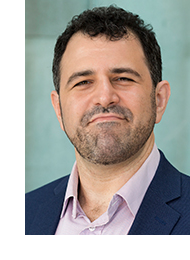 January 2021 — Assistant Professor of Law Mohamed Rali Badissy's research focused on analyzing solar ordinances across Pennsylvania has a new partner: Penn State's Center for Energy Law and Policy. The Center for Energy Law and Policy is funding an expansion of the solar ordinance research team and will also support interdisciplinary collaboration around interpretation of the research results. The collaboration aims to create resources to provide policy makers at the local and state level with meaningful insight into the impact of various components of a solar ordinance.
Over the past several months, Professor Badissy has led a team in reviewing local zoning ordinances from Pennsylvania's 2,000+ municipalities to identify specific language on solar power projects. At a little past the halfway point, the group has found that about 90 percent of the ordinances don't even mention solar. As recently highlighted by StateImpact Pennsylvania, the lack of solar ordinance has not stopped developments from moving forward, but with the solar market heating up and more projects being proposed, the ambiguity is creating strife throughout Pennsylvania between local governments, landowners, and developers.
It's this ambiguity that prompted Professor Badissy to start this solar ordinance project and why he approached the Center for Energy Law and Policy about collaborating. Penn State's Center for Energy Law and Policy is a University-wide initiative that provides thought leadership on energy issues where emerging science and technology are intertwined with legal, economic and social institutions. "I am thrilled to see this partnership with Dickinson Law take shape and move forward," said Professor Badissy. "Working with the Center for Energy Law and Policy was an obvious next step. Their expertise and guidance will allow us to more easily take what we are learning and translate it into resources that will help state and local governments make informed choices as they regulate this fast-growing source of new investment and land-use."
Professor Badissy anticipates that the initial zoning ordinance review will be completed this spring. From there, the project will turn to studying the lack of uniformity across the set of solar ordinances and the consequences of this variability at the regulatory, contract and economic level. The research team will also seek to distill common elements of solar ordinances into an annotated "model ordinance" for use by municipal governments. "One of the most challenging aspects of regulation solar projects is that they are being developed in communities that have not traditionally hosted investments at this scale and complexity," said Professor Badissy. "Our hope is that studying these regulation and draw actionable guidance can assist state and municipal officials in this difficult task and allows them to move forward quickly in creating project standards that reflect both the priorities of their communities and the realities of solar project economics."
---
Professor Badissy currently serves as an Assistant Professor at Penn State Dickinson Law, where his research focuses on driving investment into sustainable energy projects through contract standardization and regulatory predictability. He previously served as the Senior Attorney for Energy and Finance with the Commercial Law Development Program of the U.S. Department of Commerce, advising governments in emerging markets on commercial law reforms intended to increase energy access through private investment in energy infrastructure. Badissy has advised energy sector reform efforts in 60+ emerging markets in partnership with host governments, multilateral institutions, civil society organizations and industry leaders, and continues to serve as an advisor to both public institutions and private developers.