May L. Nicholson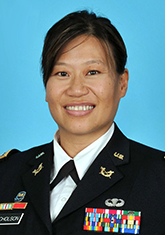 Adjunct Professor of Law
Office of the Command Judge Advocate
U.S. Army War College
Email: may.l.nicholson.mil@mail.mil
About Lieutenant Colonel Nicholson
Lieutenant Colonel May L. Nicholson currently serves as managing and lead attorney for the Office of the Command Judge Advocate for the U.S. Army War College and U.S. Army Garrison at Carlisle Barracks, Pennsylvania.
After graduating from Washington State University with a bachelor of arts in business administration with a marketing emphasis, she attended Howard University School of Law. Upon earning her J.D., Lieutenant Colonel Nicholson served as a legal assistance counsel at Camp Humphreys, Korea, to approximately 6,000 soldiers and family members on a wide range of issues, including consumer law and family law. Lieutenant Colonel Nicholson also oversaw the operation of the Tax Center, which provided free tax preparation services for all soldiers and their family members, and served as the senior tax attorney.
Lieutenant Colonel Nicholson has deployed to Pristina, Kosovo, where she provided legal advice on international and operational law and various criminal trial issues as an assistant legal advisor to United Nations Peacekeeping Operations. She has served as a criminal prosecutor for 1st Infantry Division, in Wuerzburg, Germany.
Lieutenant Colonel Nicholson was a 2/25 Stryker Brigade Judge Advocate and lead a ten-member legal team at Schofield Barracks, Hawaii, where her brigade legal team deployed for 15 months in support of Operation Iraqi Freedom to Camp Taji, Iraq. She has served in the Pentagon in the Army's office of the chief legislative liaison working as a liaison on investigations between the U.S. Army and the U.S. Congress. She spent two years as the lead attorney for Army personnel in Okinawa, Japan, where she was the staff judge advocate, advising a General Court Martial Convening Authority on all matters including criminal cases, Status of Forces Agreement issues, ethics, and administrative law.  She has also served as the Department Chair of the Administrative Law Department at the U.S. Army Judge Advocate General's Legal Center and School, which is the only American Bar Association accredited military law school.