Mark D. Bradshaw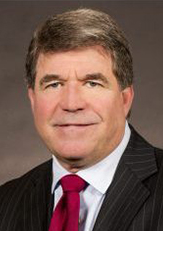 Adjunct Professor of Law
Shareholder
Stevens & Lee
Harrisburg Market Square
17 North Second St., 16th Floor
Harrisburg, PA 17101
Email: mdb@stevenslee.com
Phone: 717-255-7357
About Bradshaw
Mark Bradshaw tries cases frequently across the Commonwealth of Pennsylvania. Bradshaw's practice spans trial and appellate courts in both the state and federal systems. He is an experienced litigator who is comfortable in any courtroom.
For nearly 30 years, Bradshaw has been involved in the successful representation of major financial institutions regarding commercial, contract and consumer disputes, as well as defending corporate fiduciaries and trust departments regarding issues relating to asset concentrations, asset allocation, asset diversification and "split interest" trusts, among other areas.
Although Bradshaw's practice encompasses a wide variety of commercial disputes, he focuses on several areas, including equity actions—frequently involving pursuing and defending injunctions—with a particular emphasis on unfair competition and trade secret issues. Mr. Bradshaw also devotes a significant amount of his time to appellate practice.
Bradshaw also represents clients in environmental and land use litigation (including construction and commercial landlord/tenant issues); insurance coverage issues and actions for declaratory relief; and commercial brokerage and commission disputes. He often practices before the Pennsylvania Commonwealth Court, representing clients in state agency appeals, as well as original jurisdiction actions involving the Commonwealth, with a particular emphasis on professional licensure defense.