Zachary Javorsky '22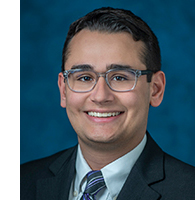 Hometown: Pittsburgh, PA
Email: zbj5007@psu.edu
Legal Areas of Interest:
Corporate, Tax
Undergraduate Study:
Allegheny College
Campus and Community Involvement:
Treasurer of Christian Law Community at Dickinson (CLCD), Associate Editor of Dickinson Law Review, 2L Representative for the Student Bar Association, Treasurer of OutLaw, volunteer for Volunteer Income Tax Preparation (VITA) Program
A Dickinson Law Favorite:
I enjoy the collegial atmosphere at Dickinson Law. Everyone in the community, from the professors to the support staff to your fellow students, wants to see you succeed. This makes learning and overcoming the challenges of law school easier because you always feel supported. 
Why Dickinson Law?:
I did not visit Dickinson Law before attending. I was attracted to the small class sizes, the reputation of the alumni base, and the small-town environment that Carlisle offered. It was through conversations with current students that I truly recognized what a special place Dickinson Law is, and I decided I wanted to be a part it. 
Internship:
This summer, I worked with Southwestern Pennsylvania Legal Services as an IOLTA Fellow. In this role, I worked on numerous family law matters including divorces, protection from abuse orders (PFA), and child dependency cases. Through interviewing clients, observing court, and conducting legal research, I gained valuable experience while getting a better sense of what it means to be a practicing attorney. Though I do not see myself practicing family law, l think the skills I learned as an IOLTA Fellow will be transferable to whatever area of law I decide to pursue. 
Favorite Course:
My favorite class was Civil Procedure with Professor Glenn. I very much enjoy solving complex problems, and civil procedure presents many complex problems. Professor Glenn always tied the concepts we were learning to real-world practice situations. I have no doubt the skills I learned in this class will help me solve complex problems once in practice.
Advice for Prospective Law Students:
Trust your gut. The law school admissions process is intense, and many people have opinions. You know the type of school and environment where you will thrive, so seek it out. Don't let message boards, rankings, or family members dictate which school is the best fit for you. Then, once you decide where you want to go, be confident in that choice. 
Something You Love About Carlisle:
Mt. Fuji's 50 percent off sushi: try it, you won't be disappointed!
On Choosing A Law School:
I wish I knew that there is no one "correct" way to do law school. Many people like to tell you what they are doing or how much time they spent on an assignment. Ignore them. Everyone is different. Find what works for you and stick with your approach.  
You'd Never Guess That… :
I was once a middle/elementary school teacher.