Zachary Gihorski '20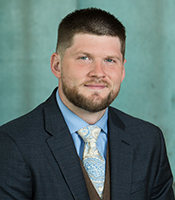 Hometown: Liverpool, PA
Email: zxg59@psu.edu
Undergraduate Study: 
Delaware Valley University
Campus and Community Involvement: 
Environmental Justice Society, board member
A Dickinson Law Favorite: 
The relationships. I grew up in a small, rural community, and went to a small undergraduate school. I have never been part of a more inspiring, diverse, accomplished, and genuinely engaged group of leaders in my life.
Why Dickinson Law?: 
Dickinson Law was not even on my "list." I was certain I was going to go to a law school that had deeper agricultural ties. I applied because it was close to where I was living at the time, and I had relationships with some alumni who I greatly respected. Four days after I applied, I received a phone call from a faculty member and he spoke with me for over an hour. That is when I knew this was the right choice.
Internships:
I had two legal internships during the summer after my first year of law school. First, I accepted a legal summer internship with the Chesapeake Bay Foundation specifically to work on issues intersecting between agriculture and the environment. Second, I took a research fellowship with the National Agricultural Law Center where I researched legal issues facing the agriculture community nationally.
I had a wonderful career before attending Dickinson Law, so when I was looking for opportunities for internships, I was very selective. I wanted roles that were going to expand my knowledge-base and increase my professional network. I was lucky enough that both internships provided just that.
Favorite Courses: 
This is a VERY hard question. I really enjoy my classes generally. I was a part of the notorious group of students dubbed by Professor Pearson in Contracts class as "That Row" due to our frequent participation, so I would probably choose that class. There are also a lot of great agriculture cases in Contracts. I also enjoyed Property, not necessarily for the content but for how Professor Skaldany taught it.
Something You Love About Carlisle:
I really enjoy the small-town feel. I am big on going for walks to think, and Carlisle is a great place for walks. Also, I have a soft spot for ice cream, and there are two excellent ice cream shops within walking distance of the Law School.
Advice for Prospective Law Students: 
Life does not often tell you the cost of chasing your dreams. The first year of law school was by far the most humbling, challenging, and inspiring experience of my life.
Everyone comes to law school thinking they will be successful, and they usually mean academically successful. But real success in law school is having a healthy balanced life, full of passion, civic engagement, academic curiosity, and relationship building. I would challenge you to aspire to that.
On Choosing A Law School: 
I spent nearly five years deliberating over law school, so I do not think there is anything I felt unprepared for in terms of choosing schools. The one thing I think I wish I had known in general was to make time before school to spend time with those you care about. You are about to embark on a profound life-changing journey—one that will require a steady support system. Spend time with them now while you can.
You'd Never Guess That… : 
Somehow the class of 2020 ended up creating its own basketball league, and I ended up being designated as Commissioner. On that note, we are always looking to expand, so let me extend an invitation to the incoming students to join our basketball community!